Dill Radish Salad
This refreshing and quick to prepare dill radish salad is also heart-healthy containing colorful radishes, snap peas and cucumbers.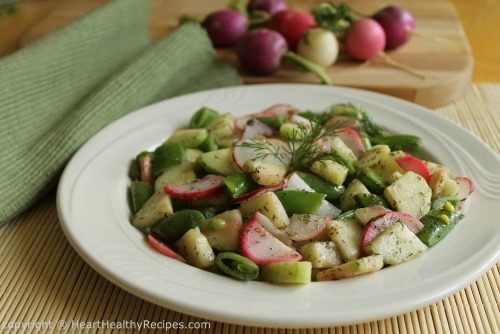 The dill radish salad also fits in with the heart-healthy Mediterranean diet.  The Mediterranean diet consists of many spices including dill.  The dill spice has been shown to benefit the heart by reducing blood cholesterol.  Studies show garlic may also help regulate cholesterol levels along with helping lower inflammation (1).  Inflammation has been proven to cause many diseases in the human body, including heart disease.  Both the dill and garlic spices help bring added flavor to this heart-healthy recipe.
The antioxidant rich radishes featured in this recipe may help assist in reducing water retention.  Water retention is a serious concern for heart patients, including those who are faced with the challenge of congestive heart failure (2).  The radish is a root vegetable that contains high amounts of potassium as well.  Potassium has been shown to help lower blood pressure.  Radishes come in various colors - including shades of reds, purples, yellows, whites and pinks.

The cucumbers also contain potassium, along with magnesium, helping to reduce inflammation.  Again, studies have shown that the reduction of inflammation has been shown to help reduce and may even help prevent certain diseases including heart problems. 
The heart-healthy sugar snap peas are also rich in antioxidants, including vitamin C, helping to further heal and protect the heart muscle.  These sugar snap peas also help reduce cholesterol.
The lemon juice and black pepper spice add a finishing touch of flavor and help purify the body, contributing to heart health.

Dill Radish Salad
Recipe Ingredients:
½ cup radishes, thinly sliced

1 large cucumber, sliced and quartered

1 lb. sugar snap peas, trimmed and halved
2 tablespoons lemon juice

⅓ cup grape seed oil
1-2 garlic cloves, minced
2 tablespoons dill, chopped
black pepper, to taste

Dill Radish Salad
Recipe Instructions:
In a large bowl, toss together radishes, cucumber and sugar snap peas.  In a small bowl combine lemon juice, oil, garlic, dill, and black pepper.  Add lemon juice mixture to salad.  Refrigerate for at least 2 hours before serving.
Makes 8 servings.

---

Check out Children's Hunger Fund!

This non-profit organization delivers hope to suffering children and families in the United States and around the world.
---
Medical/Nutritional Disclaimer: HeartHealthyRecipes.com website offers informational service only and the information contained in this website is not intended as professional nutritional or medical advice. The content in this website should not be used solely during a medical emergency or for the diagnosis or treatment of any medical condition. Please consult your doctor or other qualified health care provider regarding any course of medical treatment.

---