Grilled King Crab Legs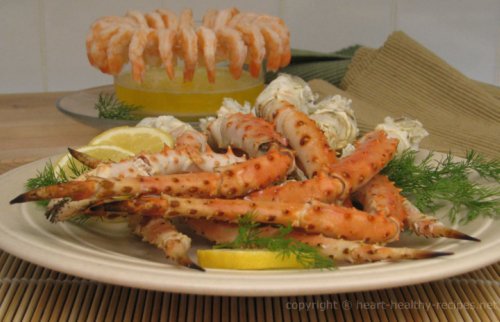 Grilled king crab legs' tasty flesh makes them a delicacy that offers many nutritional benefits, including a heart-healthy dose of omega-3 fatty acids, protein and many vitamins and minerals. One serving provides 614mg of omega-3 fatty acids, making it an excellent food source for this nutrient. According to the American Heart Association, omega-3 fatty acids are anti-inflammatory and help prevent low-density lipoprotein (LDL or "bad") cholesterol from adhering to artery walls.
Recipe Ingredients:
4 pounds king crab legs, thawed if frozen
2 tablespoons olive oil (for brushing sides of crab legs)
2 tablespoons finely chopped onions or shallots
1 tablespoon garlic, finely chopped
1 cup dry white wine
½ cup olive oil
Recipe Instructions:
To make the sauce, in a small saucepan over medium heat combine onions or shallots, garlic and wine. Bring mixture to a boil; cook and stir 10 to 12 minutes or until reduced by half. Gradually add olive oil (if using butter-stir until melted). Cook and stir 2 to 3 minutes. Strain through a fine mesh sieve into a small serving bowl. Set side.
Preheat grill (oven or outdoor) to medium (300 degrees F to 350 degrees F). Using kitchen shears, if desired, cut along one side of the crab legs shell so meat can be removed easily after grilling. Brush both sides of crab legs with the two tablespoons of olive oil.
Place crab legs on grill. Grill 5 to 6 minutes per side, being careful not to let shells char. Remove from grill and serve with sauce.
Makes 4 servings.

---
Receive 15% Discount & Free Shipping:

Receive a 15% discount on all products including kitchen items such as mixers, blenders, cookware sets, food processors, and more from

HomeHavenDecor.com

.  For the 15% discount, along with free shipping, please enter HEALTHY15 upon checkout.
---
For MORE recipes and heart health information, please subscribe to heart healthy recipes' FREE newsletter below:

---
Medical/Nutritional Disclaimer: HeartHealthyRecipes.com website offers informational service only and the information contained in this website is not intended as professional nutritional or medical advice. The content in this website should not be used solely during a medical emergency or for the diagnosis or treatment of any medical condition. Please consult your doctor or other qualified health care provider regarding any course of medical treatment.

---