Low-Salt Pineapple Chicken
Low-Salt Pineapple Chicken is loaded with heart healthy nutrition starting with the pineapple containing bromelain, an enzyme that assists the heart by keeping the blood thin and prevents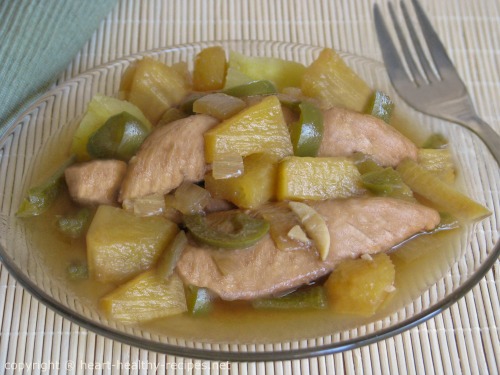 clotting.  By thinning the blood, this helps lower risks of heart problems, including heart attacks.  The pineapple also helps lower blood pressure or hypertension.  Hypertension is reduced for a healthy heart with the high content of potassium in the pineapple, while being very low in sodium.  The bromelain content may also help lower cholesterol (1). 
Since the chicken is slowly cooked in boiling liquid, the high contains of vitamin B6 retains heart healthy benefits. The vitamin B6 in chicken assists the heart by keeping the amino acid - homocysteine low. High homocysteine levels can cause damage to the walls of the blood vessels and result in sudden cardiac arrest.  There is cholesterol in chicken, but the content of niacin helps lower cholesterol.  If lean pieces of chicken are chosen for the Low-Salt Pineapple Chicken, the calories and fat will be low; yet the protein provided will be high which is also beneficial in assisting in weight loss, which is helpful in overall health – which benefits the heart.  Eating chicken regularly has been found to be helpful in controlling blood pressure as well.
The garlic and onions in this dish also provide additional heart protection by lowering blood pressure and cholesterol.  While the low-calorie, antioxidant-rich green peppers benefit the heart by assisting with weight loss (2).  
Last, but not least, extra virgin olive oil not only adds flavor to this heart healthy recipe, but also valuable heart nutrition.  It is important to choose extra virgin olive oil to receive the full heart benefits – which is blood vessel support.  Olive oil provides nutrition to keep the blood vessels strong.
Low-Salt Pineapple Chicken - Recipe Ingredients:
1 lb. lean chicken, cut in to strips
4 cloves of garlic, chopped or sliced
1 medium onion, chopped
¼ cup extra virgin olive oil
2 cups fresh pineapple
½ slice fresh ginger, grated
½ cup low-sodium chicken broth
1 medium green pepper
Low-Salt Pineapple Chicken - Recipe Instructions:
Wash chicken.  Place in bowl.  Combine pineapple, ginger, green peppers, soy sauce substitute (see below).  Allow to marinate for one hour.
In a medium-sized pan add olive oil, sauté garlic and onion.  Add chicken pieces and cover.  When chicken is half cooked, add the marinade and next add the 1 cup of chicken stock and boil over low heat until chicken is tender and cooked.  About 10-15 minutes.
Low-Salt Soy Sauce Substitute - Recipe Ingredients:
¼ cup reduced low-salt beef broth (or vegetable)
2 tablespoons red wine vinegar
2 teaspoons balsamic vinegar
4 teaspoons molasses
2 teaspoons sesame oil
¼ teaspoon garlic powder
black pepper, to taste
½ cup boiling water
Low-Salt Soy Sauce Substitute -Recipe Instructions:
Combine all the ingredients in boiling water.  Let set for an hour for flavors to blend.  Then add to favorite recipe in place of soy sauce. 
Yield: ⅔ cup - if not boiled down.
---
Receive 15% Discount & Free Shipping:

Receive a 15% discount on all products including kitchen items such as mixers, blenders, cookware sets, food processors, and more from

HomeHavenDecor.com

.  For the 15% discount, along with free shipping, please enter HEALTHY15 upon checkout.
---
For MORE recipes and heart health information, please subscribe to heart healthy recipes' FREE newsletter below:

Heart Healthy Weight-Loss
We would like to invite you to join our Heart Healthy Weight-Loss Support Group.  You are welcome to join us for support with weight-loss and heart health issues by visiting:
https://www.facebook.com/groups/hearthealthyweightloss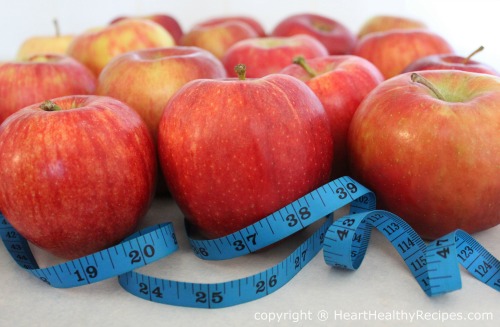 Visit & Join Our Facebook Weight-Loss Group by clicking HERE, or by copying and pasting the following URL:  https://www.facebook.com/groups/hearthealthyweightloss

---

Check out Children's Hunger Fund:

This non-profit organization delivers hope to suffering children and families around the world.
---
---
Medical/Nutritional Disclaimer: HeartHealthyRecipes.com website offers informational service only and the information contained in this website is not intended as professional nutritional or medical advice. The content in this website should not be used solely during a medical emergency or for the diagnosis or treatment of any medical condition. Please consult your doctor or other qualified health care provider regarding any course of medical treatment.

---