Mango Cobbler Pie 
Great for entertaining, this delicious mango cobbler pie is a culinary delight for the eyes, tummy and heart. Mangoes are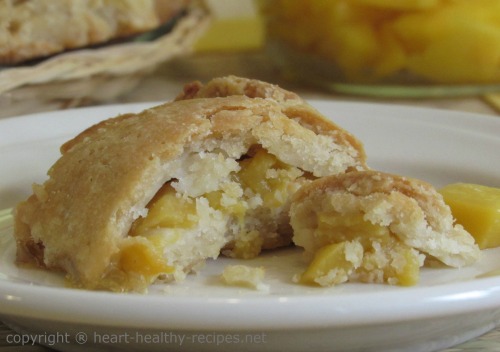 considered heart healthy due to their high fiber and potassium. The mango fruit contains vitamin C and pectin which helps assist in lowering serum cholesterol levels. Mangoes are also a great source of vitamin-B6 (pyridoxine) helping to control homocysteine levels within the blood. If homocysteine levels are too high, damage can occur to blood vessels resulting in possible stroke. Other health benefits of the delicious mango fruit include improved brain function, decreased risk of cancer, improved digestion, decreased risk of obesity and diabetes, along with improved immunity.
Cobbler Crust - 

Recipe Ingredients:
1 1/2 cups flour
1 teaspoon salt
1/2 cup coconut oil
2 tablespoon rice milk or oat drink

Mango Cobbler Filling

 - 

Recipe Ingredient

s:
3/4 cup apple juice 
2-3 tablespoons cornstarch
2 cups cubed mangoes  
Recipe Instructions:
Pre-heat oven to 375°F.  In medium mixing bowl combine flour and salt together.  In small sauce pan melt coconut oil to liquid consistency.  In small mixing bowl whisk coconut oil and milk together.  Pour oil and milk mixture over flour mixture. Combine mixture with fork and set aside.   
Combine apple juice, cornstarch and salt. Heat until thickened and then add mangoes. 
Divide cobbler crust mixture in half and form six round balls, then press flat on cookie sheet making a round circle.  Next, place approximately 2 tablespoons of mango filling on each flatten circle (half of the mango filling will be left-over for topping).  Then make six more round balls and flatten in palm of hand and cover mango filling.   
Bake at 375°F  for 20 minutes or until crust is golden brown.  Serve with remaining mango filling for topping.
Makes 6 servings.
---
For MORE recipes and heart health information, please subscribe to heart healthy recipes' FREE newsletter below:

---
Medical/Nutritional Disclaimer: HeartHealthyRecipes.com website offers informational service only and the information contained in this website is not intended as professional nutritional or medical advice. The content in this website should not be used solely during a medical emergency or for the diagnosis or treatment of any medical condition. Please consult your doctor or other qualified health care provider regarding any course of medical treatment.

---
Receive 15% Discount & Free Shipping:


Receive a 15% discount on all products including kitchen items such as mixers, blenders, cookware sets, food processors, and more from HomeHavenDecor.  For the 15% discount and free shipping, please enter HEALTHY15 upon checkout.
---