No-Bake Strawberry Pie
Low-sugar, no-bake strawberry pie is also heart-healthy with antioxidant-rich strawberries and topped with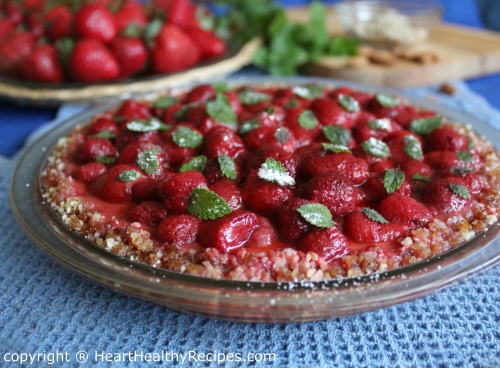 refreshing mint leaves.  The gluten-free pie crust consists of chopped almonds and Medjool dates.
Strawberries benefit the heart in many ways, including increasing HDL (good) cholesterol and lowering blood pressure. Strawberries are rich in antioxidants which help protect the heart and are a sodium-free, fat-free, cholesterol-free, low-calorie food. The no-bake strawberry pie is also great during the hot summer months when wanting to keep the house cool. 

No-Bake Pie Crust ~ Recipe Ingredients:
2½ cups raw almonds
1 cup Medjool dates, pitted and chilled
¼ cup olive oil or grape seed oil
½ teaspoon vanilla extract (optional)
No-Bake Pie Crust ~ Recipe Instructions:
Place the almonds and dates in a food processor and blend until finely chopped and in a sticky consistency. In a medium sized bowl, transfer almond-date mixture. Next, gently stir in the oil and vanilla extract (if desired) into the almond mixture. Once mixed, place in a pie pan, pressing to cover bottom and sides.
Tip: Moisten your fingertips lightly with water to prevent sticking when pressing crust into pie pan.
Strawberry Filling ~ Recipe Ingredients:
½ (6 oz.) can frozen apple juice concentrate (unsweetened)
4 tablespoons arrowroot
5 cups fresh or frozen strawberries
Strawberry Filling ~ Recipe Instructions:
Combine apple juice and cornstarch in medium sized pan and heat until thickened. Stirring constantly for about one minute. Add strawberries and simmer covered until strawberries are partially cooked. Pour strawberry mixture into unbaked pie shell - recipe above.
Allow pie to chill in refrigerator for at least an hour to help stiffen. Garnish with mint and powdered sugar if desired (as shown in above picture).

Makes 6-8 servings.
---
Receive 15% Discount & Free Shipping:

Receive a 15% discount on all products including kitchen items such as mixers, blenders, cookware sets, food processors, and more from

HomeHavenDecor.com

.  For the 15% discount, along with free shipping, please enter HEALTHY15 upon checkout.
---
Medical/Nutritional Disclaimer: HeartHealthyRecipes.com website offers informational service only and the information contained in this website is not intended as professional nutritional or medical advice. The content in this website should not be used solely during a medical emergency or for the diagnosis or treatment of any medical condition. Please consult your doctor or other qualified health care provider regarding any course of medical treatment.

---
Heart Healthy Weight-Loss
We would like to invite you to join our Heart Healthy Weight-Loss Support Group.  You are welcome to join us for support with weight-loss and heart health issues by visiting:
https://www.facebook.com/groups/hearthealthyweightloss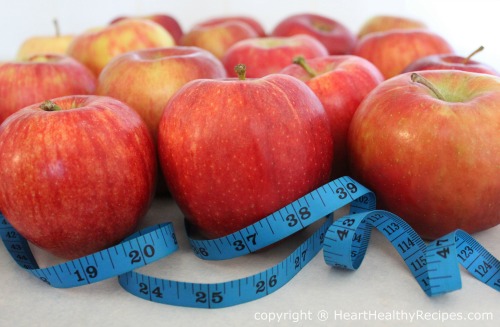 Visit & Join Our Facebook Weight-Loss Group by clicking HERE, or by copying and pasting the following URL:  https://www.facebook.com/groups/hearthealthyweightloss

---

Check out Children's Hunger Fund:

This non-profit organization delivers hope to suffering children and families around the world.
---