Sweet Potato Quiche
The antioxidant-rich sweet potatoes help make the crust in this sweet potato quiche recipe gluten-free.  Also, this is an egg-free quiche recipe flavored with fiber-rich spinach. The heart healthy spinach may help to reduced high blood pressure, along with helping to maintain a healthy blood pressure level.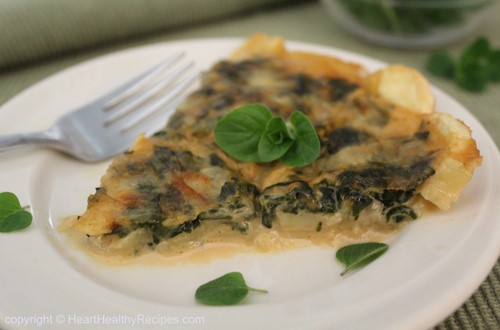 Sweet Potato Quiche - Recipe Ingredients:
2 medium sweet potatoes
1 tablespoon extra virgin olive oil
½ medium sweet onion (approx. ½-¾ cup)  
2 cups fresh spinach, coarsely sliced
1½ cups unsweetened soy milk or cashew milk
¼ teaspoon turmeric

¼ teaspoon coriander
¼ teaspoon oregano
¼ teaspoon black pepper
¼ teaspoon red pepper flakes
1½ ounces feta cheese, crumbled (about ⅓ cup)
¼ teaspoon sea salt (optional)
Sweet Potato Quiche - Recipe Instructions:
Preheat oven to 350°F. Peel sweet potatoes and then with a mandoline slicer, slice sweet potatoes into slices. In a 9-inch pie plate add sliced sweet potatoes and bake in preheated oven for 20 minutes at 350°F.
Next, increase oven temperature to 375°F. In a large skillet, over stove top medium heat, heat grape seed oil and onions, sautéing for 5-7 minutes. Add spinach to skillet, sautéing approximately 2-3 minutes. Place spinach mixture over sliced sweet potatoes.
In a medium mixing bowl add soy milk or cashew milk, turmeric, coriander, oregano, black pepper, red pepper flakes, and sea salt (optional). Pour milk onto spinach and sweet potatoes. Crumble and sprinkle top with feta cheese. Bake at 375°F for 35 minutes. Let stand for 5 minutes and then cut into 4-6 wedges.
Makes 4-6 servings.
---
Receive 15% Discount & Free Shipping:

Receive a 15% discount on all products including kitchen items such as mixers, blenders, cookware sets, food processors, and more from

HomeHavenDecor.com

.  For the 15% discount, along with free shipping, please enter HEALTHY15 upon checkout.
---
Heart Healthy Weight-Loss
We would like to invite you to join our Heart Healthy Weight-Loss Support Group.  You are welcome to join us for support with weight-loss and heart health issues by visiting:
https://www.facebook.com/groups/hearthealthyweightloss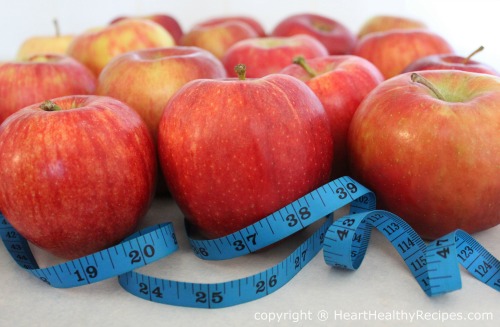 Visit & Join Our Facebook Weight-Loss Group by clicking HERE, or by copying and pasting the following URL:  https://www.facebook.com/groups/hearthealthyweightloss

---

Check out Children's Hunger Fund:

This non-profit organization delivers hope to suffering children and families around the world.
---
Medical Disclaimer:  HeartHealthyRecipes.com website offers informational service only and the information contained in this website is not intended as professional medical advice.  The content in this website should not be used solely during a medical emergency or for the diagnosis or treatment of  any medical condition.  Please consult your doctor or other qualified health care provider regarding any course of medical treatment.
---