Tomato Zucchini Couscous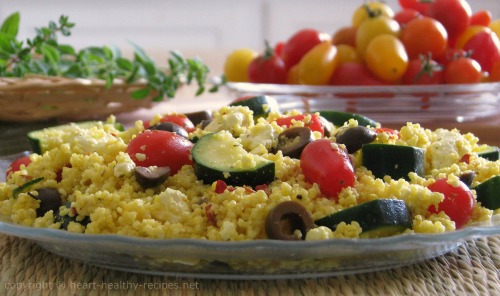 The benefits of this greek-style, tomato zucchini couscous salad lay in the heart healthy antioxidants, low cholesterol factor, vitamin and mineral content.
Tomato Zucchini Couscous - Recipe Ingredients:
1 cup dry couscous
1/4 cup extra virgin olive oil
2-3 garlic cloves, minced
2 teaspoons red chili pepper
1 teaspoon ground turmeric
1 1/4 cup water
1/2 teaspoon sea salt
1 tablespoon oregano
1 tablespoon lemon juice
2 small zucchini slice lengthwise then cut in 1/4 pieces
1/2 cup feta sheep cheese
1/2 cup olives
40 grape tomatoes or 1/2 cup full
2 tablespoons red-wine vinegar
Tomato Zucchini Couscous - Recipe Instructions:
Heat half of the olive oil in a medium saucepan over medium-high heat. Save remaining oil in small bowl. Add to saucepan garlic, red chili pepper and turmeric; stir 1 minute. Add water and sea salt; bring to boil. Remove pan from heat. Stir in couscous. Cover; let stand until liquid is absorbed, about 5 minutes. Fluff with fork; mix in oregano and lemon juice. Remove couscous mixture from pan and place in medium serving bowl and place in refrigerator to cool.

Slice zucchini lengthwise, then cut in 1/4" inch pieces and place in mixing bowl.

Gently add cheese, olives and grape tomatoes being careful not to crush.

Remove couscous from refrigerator and combine with vegetable-cheese mixture.

Sprinkle with remaining oil and red wine vinegar, then stir until well mixed and serve.

Makes 4 servings.

Nutritional Information/Analysis:
Calories: 527 Protein: 17.5g Carbohydrates: 86.4g Total Fat: 16.9g Fiber: 18.9g Cholesterol: 0mg Sodium: 448mg
---
For MORE recipes and heart health information, please subscribe to heart healthy recipes' FREE newsletter below:

---
Medical/Nutritional Disclaimer: HeartHealthyRecipes.com website offers informational service only and the information contained in this website is not intended as professional nutritional or medical advice. The content in this website should not be used solely during a medical emergency or for the diagnosis or treatment of any medical condition. Please consult your doctor or other qualified health care provider regarding any course of medical treatment.

---