Dill Cucumber Soup
The heart health benefits of this refreshing dill cucumber soup is in the main ingredient - the cucumber. Cucumbers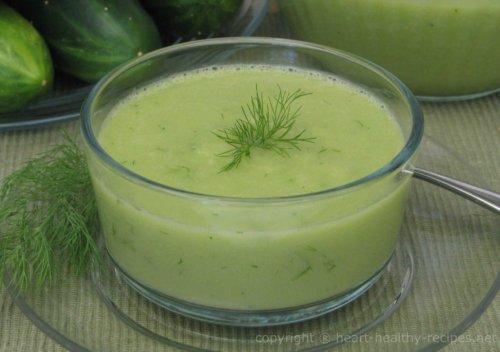 have the ability to help maintain proper blood pressure, either lowering high blood pressure or raising low blood pressure. The juice of the cucumber in this dill cucumber soup is rich in potassium, magnesium and fiber that work effectively for regulating blood pressure. Studies have shown that eating cucumbers help to lower blood pressure by as much as 5.5 points in some hypertension prone individuals when coupled with a diet of low starch and lean proteins. Because of the low calorie and high water content of cucumbers, this dill cucumber soup is an ideal diet recipe for people who are looking to lose weight loss also.
Another plus for the cucumber's positive effects on heart health is the lowering of cholesterol already existing in the body. Cucumbers do not contain cholesterol, yet have the unique effect of altering the biochemical makeup of cholesterol so that excess cholesterol is flushed out of the system rather than being absorbed.
Recipe Ingredients:
12 medium to large cucumbers, divided into two groups of 6 each
1/4 cup honey, divided
1/4 cup rice wine vinegar
1 ripe avocado, peeled and seeded
1/4 cup olive oil
2 teaspoon chopped fresh dill
1/4 teaspoon salt
1/4 teaspoon freshly ground black pepper (optional)
dill sprigs (optional), for garnish
Recipe Instructions:
Cut 6 unpeeled, washed cucumbers into 1/2 inch chunks. Place half of cucumber chunks and 2 tablespoons honey into a blender or food processor, and process until smooth. Pour puréed cucumber mixture through a cheese cloth-lined sieve into a bowl. Repeat procedure with remaining chunks - except with no honey. Cover and chill at least 8 hours. Tip: chill bowl in refrigerator before adding ingredients.
Peel, de-seed with knife or spoon, and slice remaining 6 washed cucumbers; placing slices in a bowl. Add vinegar and remaining 2 tablespoons of honey; toss well to coat. Cover and chill 8 hours or overnight.
Working with puréed cucumber mixture in sieve, press mixture lightly with a wooden spoon or rubber spatula to squeeze out juice; discard solids.
Place half of marinated cucumber slices, avocado and 1 3/4 cups cucumber juice in a blender or food processor; process until smooth. Pour cucumber mixture into a bowl. Repeat procedure with remaining cucumber slices and 1 3/4 cups cucumber juice; reserve any remaining juice for another use.
Stir in olive oil, chopped dill, salt and pepper. Place 1 1/2 cups soup into each of 6 bowls. Garnish with cracked black pepper and dill sprigs, if desired.
Soup will keep well in refrigerator for two to three days.
Makes 6 servings.
Nutritional Information/Analysis:
Calories: 225 Protein: 3.2g Carbohydrates: 23.4g Total Fat: 14.0g Saturated Fat: 2.0g Dietary Fiber: 5.1g Cholesterol: 0mg Sodium: 109mg
Receive 15% Discount & Free Shipping:

Receive a 15% discount on all products including kitchen items such as mixers, blenders, cookware sets, food processors, and more from

HomeHavenDecor.com

.  For the 15% discount, along with free shipping, please enter HEALTHY15 upon checkout.
---
For MORE recipes and heart health information, please subscribe to heart healthy recipes' FREE newsletter below:

Heart Healthy Weight-Loss
We would like to invite you to join our Heart Healthy Weight-Loss Support Group.  You are welcome to join us for support with weight-loss and heart health issues by visiting:
https://www.facebook.com/groups/hearthealthyweightloss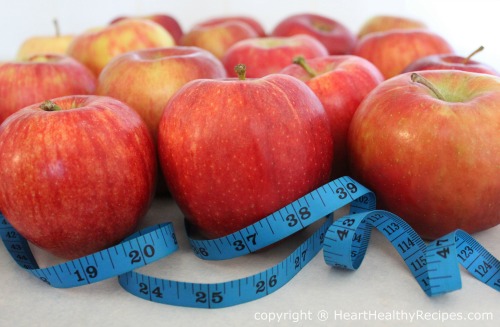 Visit & Join Our Facebook Weight-Loss Group by clicking HERE, or by copying and pasting the following URL:  https://www.facebook.com/groups/hearthealthyweightloss

---

Check out Children's Hunger Fund:

This non-profit organization delivers hope to suffering children and families around the world.
---
---
Medical/Nutritional Disclaimer: HeartHealthyRecipes.com website offers informational service only and the information contained in this website is not intended as professional nutritional or medical advice. The content in this website should not be used solely during a medical emergency or for the diagnosis or treatment of any medical condition. Please consult your doctor or other qualified health care provider regarding any course of medical treatment.

---