Heart Healthy Blueberry Muffins
Get your morning off to a great start with these delicious, heart healthy blueberry muffins that have just the right combination of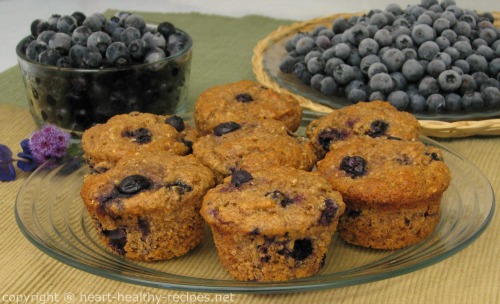 sweet flavors – honey, bananas and blueberries.  These muffins being naturally sweetened with fruit and raw honey add many health benefits to the diet.  First, raw honey is rich in antioxidants – containing the flavonoid pinocembrin, which supports healthy enzyme activity for over-all health – thus helping the heart to stay healthy.  Cholesterol levels may be lowered by ingesting raw honey and "good" (HDL) cholesterol levels increased.  Next, bananas are high in potassium and low in salt – thus aiding in lowering blood pressure and protecting against heart attack and stroke.  The star sweetener and "super food" - blueberries - aid the cardiovascular system by being very high in antioxidants as well.  Regular consumption of blueberries help improve cholesterol and maintain healthy blood pressure in both men and women.  Also, blueberries help protect the heart from oxygen damage that could lead to clogging of the blood vessels and damage to the cell lining of the blood vessel walls.  The cinnamon is an added bonus by lowering blood pressure and assisting with poor blood circulation.  Finally, the high fiber cereal and low-fat yogurt contained in this recipe both contribute to weight-loss which helps take a load off the heart.
---
For MORE recipes and heart health information, please subscribe to heart healthy recipes' FREE newsletter below:

---
Blueberry Muffins - Recipe Ingredients:
1 ½ cups Pastry Flour
1 ½ cups Whole Grain high Fiber Cereal
2-3 teaspoons baking powder
1 teaspoon cinnamon
1 teaspoon baking soda
½ - ¾ cup raw honey
1 medium banana
½ cup plain, low-fat yogurt
1 tablespoon olive oil
1 – 1 ½ cups blueberries
¾ - 1 cup rice milk or water
Blueberry Muffins - Recipe Instructions:
Pre-heat oven to 375°F degrees.  In medium to large mixing bowl, combine dry ingredients – flour, cereal, baking powder, cinnamon and baking soda.
In separate bowl, mash banana.  Add honey, low-fat yogurt and olive oil.  Next combine these moist ingredients to dry ingredients in first bowl.  For additional moistness and flavor, next add rice milk.  Last fold in blueberries.  Fill muffin cups with muffin mixture and bake in pre-heated oven for 20-25 minutes. 
Makes 12 muffins.
---
Medical Disclaimer:  HeartHealthyRecipes.com website offers informational service only and the information contained in this website is not intended as professional medical advice.  The content in this website should not be used solely during a medical emergency or for the diagnosis or treatment of  any medical condition.  Please consult your doctor or other qualified health care provider regarding any course of medical treatment.

---
Receive 15% Discount & Free Shipping:

Receive a 15% discount on all products including kitchen items such as mixers, blenders, cookware sets, food processors, and more from

HomeHavenDecor.com

.  For the 15% discount, along with free shipping, please enter HEALTHY15 upon checkout.
---