Rosemary Lamb Shish Kabobs
These succulent and delicious Rosemary Lamb Shish Kabobs are rich in nutrients and make an attractive addition to any occasion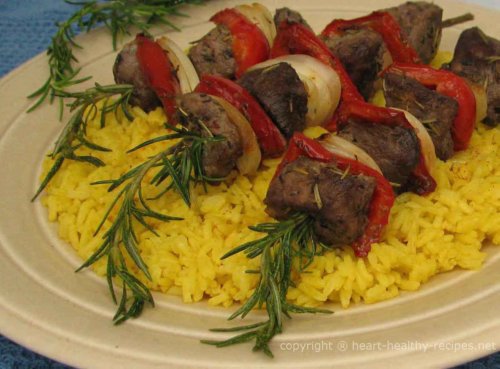 including a new variation on the traditional lamb for Easter dinner.
The lamb provides healthy proteins, iron, vitamin B12, zinc, selenium and niacin. These low in saturated fat lamb shish kabobs also contain CoQ10, which is essential for heart health. In fact, CoQ10 is needed for every cell of the body to remain healthy.
Recipe Ingredients:
1 lb./450g. lean lamb
rosemary sprigs, bundle of 6-8" long stems
2 onions
1 red bell pepper, deseeded
4 tablespoons olive oil
1/2 lemon, grated rind and juice
1 garlic clove, crushed
1/2 teaspoon dried oregano
1/2 teaspoon dried thyme
Recipe Instructions:
Trim excess fat from the lamb meat and cut into large, even sized chunks - approximately 1" cubes.
Take one of the onions and grate or chop very finely. Then remove the juice by squeezing the chopped onion over a large, glass bowl. Combine the juice of this onion with the olive oil, lemon juice, crushed garlic clove, oregano and thyme. Add the lamb meat to liquid, tossing meat to marinate in the refrigerator for at least two hours or overnight.
Divide the second onion into wedges or halves. Cut the red bell pepper into chunks. Remove the lamb meat from the marinade, reserving the marinade for basting. Thread the meat onto rosemary sprigs, starting at the base or bottom of sprig stems. Alternate with the onion and pieces of red bell peppers.
Crush any excess rosemary leaves and sprinkle as desired on lamb meat.
Grill for 8-10 minutes, turning and basting with the reserved marinade frequently. Serve immediately. Makes 4-6 servings.
For a completely delicious main dish - serve with saffron flavored rice.
Click here for complementary mint dipping sauce.
---
Receive 15% Discount & Free Shipping:

Receive a 15% discount on all products including kitchen items such as mixers, blenders, cookware sets, food processors, and more from

HomeHavenDecor.com

.  For the 15% discount, along with free shipping, please enter HEALTHY15 upon checkout.
---
For MORE recipes and heart health information, please subscribe to heart healthy recipes' FREE newsletter below:

---
Medical/Nutritional Disclaimer: HeartHealthyRecipes.com website offers informational service only and the information contained in this website is not intended as professional nutritional or medical advice. The content in this website should not be used solely during a medical emergency or for the diagnosis or treatment of any medical condition. Please consult your doctor or other qualified health care provider regarding any course of medical treatment.

---