Egg Free Pumpkin Pie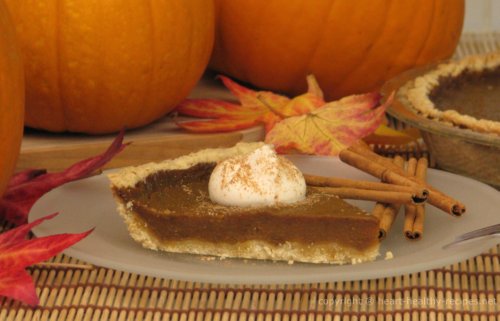 This egg-free pumpkin pie that is low in sugar is surprisingly delicious. It is sure to please for any dinner occasion, including Thanksgiving and other holiday entertaining where there may be food allergies present. Topped with a dollop of low-fat, lightly honey-sweetened whipped cream, it is the perfect finishing touch.
Recipe:
Crust - enough for 2 bottom pie shells:
3 cups flour
2 teaspoons salt
3/4 cup olive oil
1/4 cup milk
Sift together flour and salt into a 9" pie plate. Combine oil and milk together and pour over flour mixture. Combine with fork and pat into pie plate. Bake at 400" for 45-50 minutes for filled pie crust.
Filling for two pies:
4 cups canned pumpkin or pureed home-cooked fresh pumpkin
2 cup low-fat rice milk or low-fat milk
3/4 cup honey
1/2 cup cornstarch
1 Tablespoon dark molasses
2 teaspoons vanilla extract
2 teaspoons ground cinnamon
1 teaspoon salt
1 teaspoon ground ginger
1/2 teaspoon grated nutmeg
1/2 teaspoon ground cloves