Chicken Valencia
This heart healthy chicken valencia dish is a wonderful addition to almost any meal. The orange juice and tomatoes add just the right "zippiness".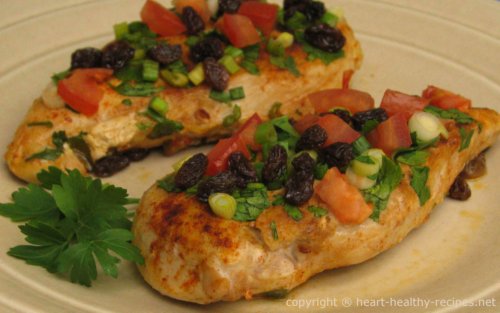 Recipe Ingredients:
1 lb. chicken pieces, skinned and boned
1 teaspoon sweet paprika
2 tablespoons olive oil
3 green onions, chopped
¼ cup chopped fresh parsley
1 tomato, chopped
½ cup orange juice
1/3 cup raisins
Recipe Instructions:
Sprinkle chicken pieces with paprika, patting it in. Heat oil in a 10-inch skillet over medium heat. Add chicken and cook until brown, turning occasionally. Add remaining ingredients. Cover, reduce heat and simmer until chicken is cooked through, 15 to 20 minutes. Turn chicken at least twice during cooking. Makes 4 servings.