Avocado Guacamole
Enjoy heart-healthy avocados in this guacamole recipe: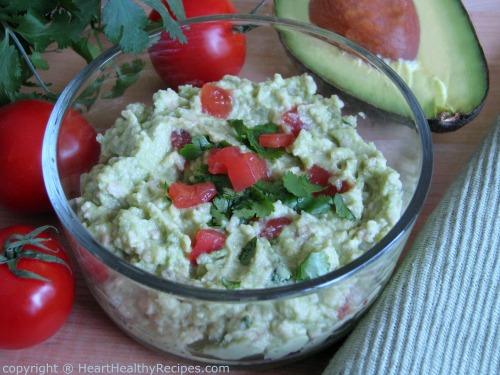 Fresh, ripe avocados are high in antioxidants and potassium.  In fact, avocados have three more times potassium than bananas.  Potassium has been shown to help lower and regulate blood pressure.  The avocados in this guacamole recipe also contain healthy fats that are beneficial to the heart and body as a whole.  Avocados are rich in mono-unsaturated fats and over 75% of the fat in avocados are the good monounsaturated fat.  These healthy fats may help lower heart problems including the reduction of high cholesterol. 
In addition, avocados are rich in omega-3 fatty acids.  Omega-3 fatty acids are a type of unsaturated fatty acid that has been shown to reduce inflammation throughout the body.  Chronic inflammation has been associated with many diseases including heart disease.  Also, inflammation may lead to the damage of blood vessels.  Omega-3 fatty acids may also benefit the heart by decreasing triglycerides, lowering blood pressure, aid in the reduction of blood clotting, decrease the risk of heart failure risk and help in reducing irregular heartbeats.

Avocados are highly nutritious with approximately 20 known minerals and vitamins, including more vitamin C than oranges.  Vitamin C is important for a strong immune system and to help ward-off disease, which in turn helps keep the body as a whole healthy, including the heart.  Avocados are also cholesterol-free, sodium-free, and low-calorie containing approximately 80 calories each.
The added ingredient of the healing herb cilantro benefits the heart with micronutrients and antioxidants that protect the heart against oxidative stress.  Along with antibacterial properties that help prevent illness, the herb cilantro also helps control cholesterol and triglyceride levels in the body.
Tomatoes are high in lycopene and also potassium, which both help benefit the heart.  The power antioxidant, lycopene, has been shown to help stabilize cholesterol levels and help lower blood pressure.  The potassium helps control blood pressure and help keep the heart beat regular.
The onion and garlic also benefit the heart by both providing anti-inflammatory benefits which help lessen heart disease. The powerful antioxidants in onions help ride toxins in blood cells.  The cholesterol lowering garlic also helps strengthen the immune system with antibacterial properties that help fight off bacteria that can cause illness.
Avocado Guacamole Recipe Ingredients:
3 avocados, pitted and peeled
1 lime, juiced
½ teaspoon sea salt (optional)
½ medium onion, chopped

3 tablespoons fresh cilantro, chopped

2 medium tomatoes, diced

2 garlic cloves, minced
Avocado Guacamole Recipe Instructions:
In a medium bowl, mash avocados, lime juice and sea salt (optional). Mix in onion, cilantro, tomatoes, and garlic.  May serve immediately or refrigerate for one hour for richer flavor.
Makes 4 - 6 servings.
---
For MORE recipes and heart health information, please subscribe to Heart Healthy Recipes' FREE newsletter below:

---
Receive 15% Discount & Free Shipping:

Receive a 15% discount on all products including kitchen items such as mixers, blenders, cookware sets, food processors, and more from

HomeHavenDecor.com

.  For the 15% discount, along with free shipping, please enter HEALTHY15 upon checkout.
---
Medical/Nutritional Disclaimer: HeartHealthyRecipes.com website offers informational service only and the information contained in this website is not intended as professional nutritional or medical advice. The content in this website should not be used solely during a medical emergency or for the diagnosis or treatment of any medical condition. Please consult your doctor or other qualified health care provider regarding any course of medical treatment.

---