Jicama Salad
The Jicama Salad is heart healthy because the Jicama vegetable is first fat-free and low in calories – helping to control the cholesterol levels and reducing the risk of heart problems, such as heart attack and hypertension.  Being also high in vitamin C, jicamas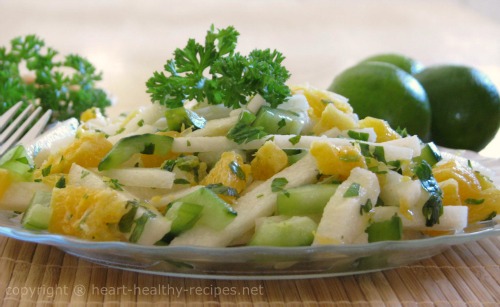 benefit the circulatory system by strengthening or supporting the structure of capillaries – which reduces the risks of having capillary damage.  Because the jicama is rich in folic acid, beta-carotene and many other vitamins it helps lower homocysteine levels – which affect the production of proteins in the body and high homocysteine levels may lead to heart disease due to damaging the lining of the blood vessels.  Jicamas are also very high in fiber, and being low in calories, aid in weight control – which helps reduce the risk of heart disease.
In addition, the Jicama Salad, is also heart healthy due to the many well-known benefits of oranges.  One of the well-known benefits being vitamin C, along with carotenoids and flavonoids - all of which have been identified as having protective cardiovascular effects.  Oranges are also rich in folic acid, which again aids in lowering levels of the cardiovascular risk factor, homocysteine.  Oranges also contain potassium, which helps lower blood pressure, protecting against stroke and cardiac arrhythmias.   
Limes and lemons have many healthy attributes and also make this recipe heart healthy by assisting in lowering cholesterol. 
The cucumbers help regulate blood pressure – both low blood pressure and high blood pressure – due to the juice in the cucumbers – which contains a lot of potassium, magnesium and fiber.
Jicama Salad - Recipe Ingredients:
1 jicama root (only edible part), raw peeled and chopped
4 oranges
4 limes
½ cup lemon juice
1 cup cilantro, chopped
1 English cucumber, lengthwise and de-seed
Jicama Salad - Recipe Instructions:
Peel raw jicama root and chop - placing in large mixing bowl.  Next peel oranges, and cut or remove each section into about 1" pieces - adding to bowl.  Cut limes in half and spoon out insides of limes.  Add chopped cilantro and lemon juice.  Next cut cucumber lengthwise and de-seed, adding to salad.  Gently mix all ingredients together.  Makes 4 servings.
Nutritional Information/Analysis:
Calories: 137 Protein: 3.3g Carbohydrates: 34.9g Total Fat: 0.7g Trans Fat: 0.0g Fiber: 2g Cholesterol: 0mg Sodium: 11mg
Receive 15% Discount & Free Shipping:

Receive a 15% discount on all products including kitchen items such as mixers, blenders, cookware sets, food processors, and more from

HomeHavenDecor.com

.  For the 15% discount, along with free shipping, please enter HEALTHY15 upon checkout.
For MORE recipes and heart health information, please subscribe to heart healthy recipes' FREE newsletter below:

---
Medical/Nutritional Disclaimer: HeartHealthyRecipes.com website offers informational service only and the information contained in this website is not intended as professional nutritional or medical advice. The content in this website should not be used solely during a medical emergency or for the diagnosis or treatment of any medical condition. Please consult your doctor or other qualified health care provider regarding any course of medical treatment.

---