Mediterranean Chicken Salad
Enjoy the heart-healthy benefits of the Mediterranean diet with basil, peppers, spinach, onions and olives in this tasty, Mediterranean chicken salad.  First, the flavorful basil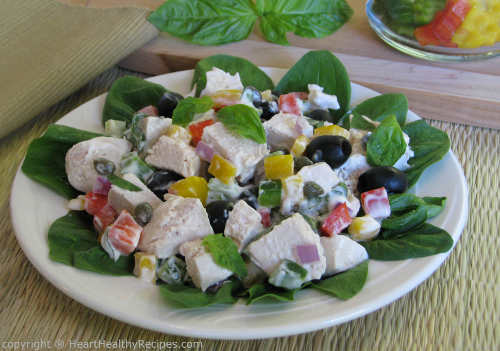 is an excellent source of vitamins and minerals, along with the heart-healthy omega-3 fatty acids.  Basil also has anti-inflammatory properties that have been shown to help lower may diseases including heart disease.

Antioxidant-rich, red onions also help reduce inflammation and reduce cholesterol levels, along with helping reduce high blood pressure.  Studies have shown that eating onions raw may help lower lower the production of LDL or "bad" cholesterol, while high-density lipoprotein (HDL), or "good" cholesterol remain the same.  In addition, the immune boosting vitamin C is active in the uncooked onion also benefiting the heart.
The bell peppers in this Mediterranean chicken salad are a good source of cholesterol-lowering fiber and the red peppers in particular are heart-healthy.  The red pepper is rich in lycopene which may help reduce free-radical damage and help regulate proper cholesterol levels.
Vitamin and mineral rich spinach contains high amount of nitrates, which have been shown to help lower and regulate blood pressure.  Also, eating fresh spinach, which is one of the most nutrient dense foods may reduce oxidative stress and help regulate cholesterol levels as well.
Mediterranean Chicken Salad - 
Recipe Ingredients:
2 teaspoons fresh basil, cut into shreds
½ cup red onion, chopped
½ cup pitted black olives
2 tablespoons capers, drained
½ cup mayonnaise substitute - Grapeseed Oil Vegenaise®
1 medium yellow pepper, cut into ¼-inch cubes
1 medium red pepper, cut into ¼-inch cubes
1 medium green pepper, cut into ¼-inch cubes
1 pound boneless, skinless chicken breasts, cubed
½ pound spinach, (about 4 quarts) as liner for plates or bowls
fresh basil, as garnish
Mediterranean Chicken Salad - 
Recipe Instructions:
In a medium to large sized bowl add basil, onion, olives, capers, and mayonnaise substitute. Rinse yellow, red, and green peppers then cut in half and remove seeds.  Cut peppers into ¼-inch cubes and place into bowl with other ingredients along with cubed chicken. Line plates with spinach, then add chicken salad, and top with fresh basil.

Makes 4 servings.
For MORE recipes and heart health information, please subscribe to heart healthy recipes' FREE newsletter below:
---
Receive 15% Discount & Free Shipping:

Receive a 15% discount on all products including kitchen items such as mixers, blenders, cookware sets, food processors, and more from

HomeHavenDecor.com

.  For the 15% discount, along with free shipping, please enter HEALTHY15 upon checkout.
---
Medical/Nutritional Disclaimer: HeartHealthyRecipes.com website offers informational service only and the information contained in this website is not intended as professional nutritional or medical advice. The content in this website should not be used solely during a medical emergency or for the diagnosis or treatment of any medical condition. Please consult your doctor or other qualified health care provider regarding any course of medical treatment.

---