Raspberry Popsicles
Refreshing raspberry popsicles that are sweetened with natural honey and fruit.  These summer berries are abundant in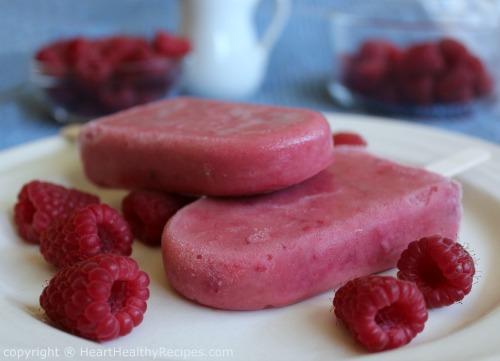 antioxidants such as vitamin C and E.  Studies have shown raspberries help decrease oxidative stress and reduce inflammation, further supporting that raspberries are an important fruit in a heart-healthy diet. (1)

Raspberry P

opsicles - Recipe Ingredients:
2 cups oat milk or coconut milk, chilled
½ cup cream
⅓ cup honey
1 teaspoon vanilla
2 cups raspberries, fresh

Raspberry P

opsicles - Recipe Instructions:
In medium bowl blend together oat milk, cream, honey and vanilla with hand held mixer (blender or food processor works as well).  Once first four ingredients are blended, gently add fresh, whole raspberries.  Blend for another 30 seconds or until desired texture is achieved. 
Pour blended raspberry mixture into popsicle containers and freeze in freezer for approximately two hours or overnight.  When raspberry popsicles are ready to serve, hold sideways under warm running water briefly.  Gently test popsicle stick for readiness.  Once ready, gently pull raspberry popsicle out of container and enjoy! :)
Makes 8 - 12 servings.
---
Heart Health Recipes' Newsletter
---
For more recipes and heart health information, please subscribe to Heart Healthy Recipes' free monthly newsletter below:
---
Medical/Nutritional Disclaimer: HeartHealthyRecipes.com website offers informational service only and the information contained in this website is not intended as professional nutritional or medical advice. The content in this website should not be used solely during a medical emergency or for the diagnosis or treatment of any medical condition. Please consult your doctor or other qualified health care provider regarding any course of medical treatment.

---