Shrimp Pasta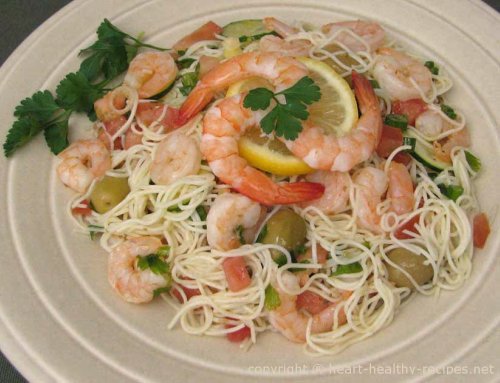 Shrimp Pasta, a heart healthy recipe which is not only delicious and attractive, but also nutritious. The shrimp being an excellent source of calcium and phosphorus. Shrimp, which is packed with HDL, the "good cholesterol", may also help significantly lower blood cholesterol levels.
Recipe Ingredients:
12 ounces dry angel hair pasta, cooked
2 tablespoons olive oil
3 green onions chopped
1 small zucchini sliced
2 tomatoes, chopped
1 pound cooked shrimp, peeled and deveined
2 tablespoons fresh lemon juice
½ teaspoon dried garlic
½ teaspoon dried oregano
2 tablespoons parsley
½ cup olive oil
12 green olives
Recipe Directions:
Cook angel hair pasta according to package directions. Meanwhile, in a large skillet, heat approximately 2 tablespoons of olive oil, sauté green onions for approximately 5 minutes. Slice zucchini and chop tomatoes, add to skillet and continue sautéing for another 2-3 minutes. Reduce heat; add shrimp, lemon juice, garlic, oregano and parsley. Cook for 2-4 minutes or until heated through. Drain pasta and place in a large bowl, mixing in the 1/2 cup of olive oil. Add shrimp mixture and lightly toss to blend all ingredients. Top-off with green olives.
Serve at once, or cover and refrigerate 2 hours to thoroughly chill. Garnish with lemon wedge and parsley if desired.
Makes 6 servings.
---
Medical/Nutritional Disclaimer: HeartHealthyRecipes.com website offers informational service only and the information contained in this website is not intended as professional nutritional or medical advice. The content in this website should not be used solely during a medical emergency or for the diagnosis or treatment of any medical condition. Please consult your doctor or other qualified health care provider regarding any course of medical treatment.

---