Strawberry Mixed Green Salad
Fresh, summer strawberries in a bed of mixed salad greens, along with walnuts and goji berries. This strawberry mixed green salad is refreshing and a great treat with almost any meal or as a stand-alone dish.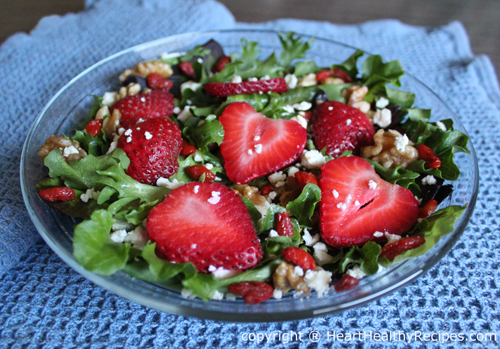 The antioxidant-rich strawberries help benefit and protect the heart with an abundant supply of vitamin C, fiber, and more. Strawberries help increase HDL (good) cholesterol and assist in lowering blood pressure. Walnuts, goji berries and salad greens also help protect the heart and entire body.
Recipe Ingredients:
6 cups (8 oz.) mixed salad greens or baby spinach
2 cups strawberries, sliced or quartered
4 oz. Feta cheese
½ cup walnuts, chopped
½ cup dried goji berries
Recipe Instructions:
Place equal amounts of salad greens on six individual plates or bowls. Next, add strawberries - saving a few to garnish. Add cheese, walnuts, and goji berries. Mixing lightly. Add remaining strawberries for garnish.

For salad dressing, top with avocado oil mixed with a bit of lemon juice or try our honey poppy seed dressing.
---
Cuisinart Smart Power Duet
Blender and Food Processor
The Cuisinart Smart Power Duet Blender and Food Processor takes care of most all your kitchen food prep needs. From chopping healthy veggies to mixing heart healthy, delicious recipes, this powerful processor with the stainless-steel chopping blade, tackles most time-consuming tasks with ease.
Click Here for more information.
---
Receive 15% Discount & Free Shipping:

Receive a 15% discount on all products including kitchen items such as mixers, blenders, cookware sets, food processors, and more from

HomeHavenDecor.com

.  For the 15% discount, along with free shipping, please enter HEALTHY15 upon checkout.
---
Heart Healthy Weight-Loss
We would like to invite you to join our Heart Healthy Weight-Loss Support Group.  You are welcome to join us for support with weight-loss and heart health issues by visiting:
https://www.facebook.com/groups/hearthealthyweightloss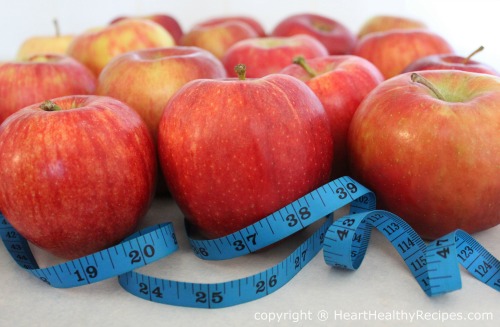 Visit & Join Our Facebook Weight-Loss Group by clicking HERE, or by copying and pasting the following URL:  https://www.facebook.com/groups/hearthealthyweightloss

---

Check out Children's Hunger Fund:

This non-profit organization delivers hope to suffering children and families around the world.
---
Medical/Nutritional Disclaimer: HeartHealthyRecipes.com website offers informational service only and the information contained in this website is not intended as professional nutritional or medical advice. The content in this website should not be used solely during a medical emergency or for the diagnosis or treatment of any medical condition. Please consult your doctor or other qualified health care provider regarding any course of medical treatment.