Tomato Eggplant Appetizer
This tomato eggplant appetizer is heart healthy due to the cholesterol lowering properties of the two main ingredients; the eggplant and tomatoes.  The eggplant is very rich in phenolic compounds, which is beneficial in lowering LDL cholesterol.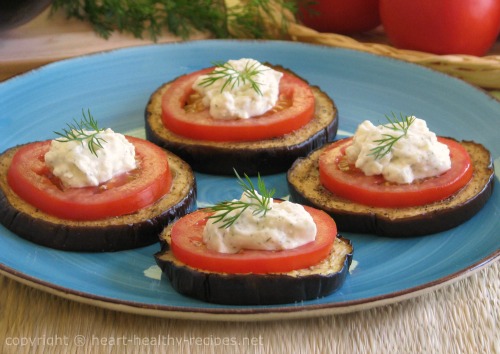 Eggplants are also a great source of heart-healthy fats, including omega-3 and omega-6 fatty acids; while also being low in cholesterol, sodium and saturated fats. The tomatoes are helpful in lowering blood pressure and reducing cholesterol levels due to the vitamin B and potassium. Tomatoes also contain alkaline which assists in purifying the blood.

Tomato Eggplant Appetizer -  
Recipe Ingredients:
1 eggplant
¼ cup grape seed oil 
3 tomatoes, sliced
2 oz. feta cheese
2 garlic cloves, crushed
¼ cup mayonnaise substitute - Grapeseed Oil Vegenaise®
¼ teaspoon dill weed powder
Salt and pepper to taste
Dill, garnish 
Tomato Eggplant Appetizer - 
Recipe Instructions:
Pre-heat oven or toaster oven (on convention bake) to 400°F.  Slice eggplants to ½" thick slices, cover with olive oil, salt and pepper.  Bake eggplants for 15-18 minutes.  Mix the cheese, crushed garlic, and mayonnaise substitute in a small bowl.  Place baked eggplant slices on a plate and top each with a slice of tomato and a spoon full of cheese mixture.  Garnish each eggplant appetizer with fresh dill.  Makes 8-10 servings.
---
Medical/Nutritional Disclaimer: Heart-Healthy-Recipes.net website offers informational service only and the information contained in this website is not intended as professional nutritional or medical advice. The content in this website should not be used solely during a medical emergency or for the diagnosis or treatment of any medical condition. Please consult your doctor or other qualified health care provider regarding any course of medical treatment.

---

Check out Children's Hunger Fund!

This non-profit organization delivers hope to suffering children and families in the United States and around the world.

---