Tomato Eggplant Appetizer
A colorful eggplant appetizer that is delicious while also providing benefits to heart health.  The eggplants in this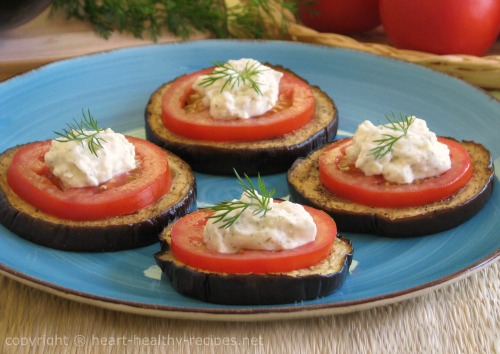 recipe are a great source of heart-healthy fats, including omega-3 fatty acids.  These essential omega-3s may help lower blood pressure, reduce clotting, and help reduce irregular heartbeats.  Omega-3 fatty acids have also been shown to lower LDL cholesterol, which is the undesirable cholesterol, and assists in lowering inflammation as well.  Chronic inflammation has been shown to be associated with the onset of many diseases, including heart disease.  The eggplant is also naturally low in sodium, saturated fats, and cholesterol.  In addition, the eggplant is very rich in phenolic compounds, which is beneficial in lowering LDL cholesterol.
The antioxidant rich tomatoes in this recipe contain lycopene, a compound that may help lower LDL cholesterol and blood pressure.  Also, the tomatoes in this eggplant appetizer are high in potassium, which has been shown to lower blood pressure and reducing cholesterol levels.  Another benefit of the tomatoes is the ability to help in purifying the blood with its high alkaline content.
Lastly, the dill weed and the garlic both benefit the heart by helping to reduce cholesterol levels as well.

Tomato Eggplant Appetizer -  
Recipe Ingredients:
1 eggplant
¼ cup grape seed oil 
3 tomatoes, sliced
2 oz. feta cheese
2 garlic cloves, crushed
¼ cup mayonnaise substitute - Grapeseed Oil Vegenaise®
¼ teaspoon dill weed powder
Salt and pepper to taste
Dill weed sprigs for garnish (optional) 
Tomato Eggplant Appetizer - 
Recipe Instructions:
Preheat oven or toaster oven (on convention bake) to 400°F.  Slice eggplants to ½" thick slices and place in baking dish.  Cover with olive oil, salt and pepper.  Bake eggplants for 15-18 minutes.  Mix the cheese, crushed garlic, and mayonnaise substitute in a small bowl.  Place baked eggplant slices on a plate and top each with a slice of tomato and a spoon full of cheese mixture.  Garnish each eggplant appetizer with fresh dill, if desired. 
Makes 8-10 servings.
For MORE recipes and heart health information, please subscribe to Heart Healthy Recipes' FREE Monthly newsletter below:

---
Receive 15% Discount & Free Shipping:

Receive a 15% discount on all products including kitchen items such as mixers, blenders, cookware sets, food processors, and more from

HomeHavenDecor.com

.  For the 15% discount, along with free shipping, please enter HEALTHY15 upon checkout.
---
Medical/Nutritional Disclaimer: HeartHealthyRecipes.com website offers informational service only and the information contained in this website is not intended as professional nutritional or medical advice. The content in this website should not be used solely during a medical emergency or for the diagnosis or treatment of any medical condition. Please consult your doctor or other qualified health care provider regarding any course of medical treatment.

---