Walnut Pea Salad
The big "super-star" ingredient in this simple, yet very delicious walnut pea salad are the walnuts.  Walnuts are being recognized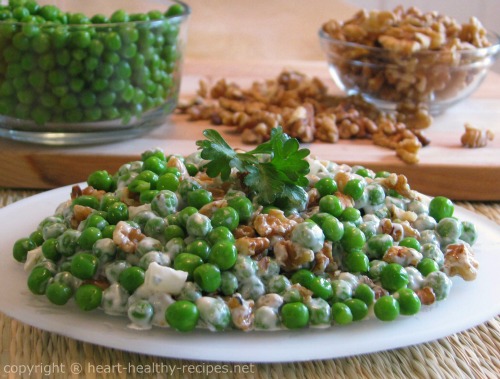 more and more for their very unique health benefits.  Some of the uncommon nutrients lie in the skin of the walnut; so when preparing this recipe – leave on the skin.  Contained in the skin of the walnut are phenols which include key phenolic acids and flavonoids that possess anti-oxidant, anti-inflammatory and anti-clogging properties.  These properties all benefit the health of the cardiovascular system.  Walnuts improve the blood quality and over-all heart health by decreasing LDL cholesterol, while increasing HDL cholesterol.  Also, walnuts are rich in the heart-healthy benefiting Omega-3 fatty acids.  One of the many ways Omega-3 fatty acids help the cardiovascular system is to reduce blood pressure.  In addition, walnuts, if eaten with the skin provide a very high level of vitamin E in the form of alpha-tocopherols and gamma-tocopherols – both forms offer significant heart protection.
Another health benefit of this walnut pea salad include, as mentioned in the name, are the peas.  Peas contain large amounts of the B vitamins – including B1 and folate, B2, B3, and B6.  These B vitamins help reduce homocysteine levels which can help prevent heart disease.  Also, the niacin in peas helps reduce production of triglycerides which lessens LDL cholesterol and increases HDL, the "good" cholesterol.  All in all, this is a very simple, yet heart-healthy recipe. The taste is very creamy, nutty and cheesy - without the cheese!

Walnut Pea Salad - 

Recipe Ingredients:
3 cups (16 oz.) green peas, thawed
1 cup walnuts, coarsely chopped
1 cup Vegenaise (egg free Mayonnaise substitute)
½ cup onions
⅓ cup olive oil
1 tablespoon parsley, chopped
½ teaspoon garlic
salt to taste
Walnut Pea Salad - 

Recipe Instructions:
Place thawed green peas in mixing bowl.  Chop up walnuts and add.  Next combine Vegenaise®, onions, olive oil, parsley, garlic and salt to walnuts and peas.  Mix carefully without smashing the green peas.
Makes 6-8 servings.
For MORE recipes and heart health information, please subscribe to heart healthy recipes' FREE newsletter below:

---
Receive 15% Discount & Free Shipping:

Receive a 15% discount on all products including kitchen items such as mixers, blenders, cookware sets, food processors, and more from

HomeHavenDecor.com

.  For the 15% discount, along with free shipping, please enter HEALTHY15 upon checkout.
Heart Healthy Weight-Loss
We would like to invite you to join our Heart Healthy Weight-Loss Support Group.  You are welcome to join us for support with weight-loss and heart health issues by visiting:
https://www.facebook.com/groups/hearthealthyweightloss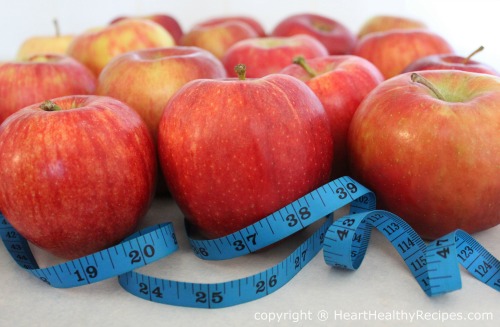 Visit & Join Our Facebook Weight-Loss Group by clicking HERE, or by copying and pasting the following URL:  https://www.facebook.com/groups/hearthealthyweightloss

---

Check out Children's Hunger Fund:

This non-profit organization delivers hope to suffering children and families around the world.
---
Medical/Nutritional Disclaimer: HeartHealthyRecipes.com website offers informational service only and the information contained in this website is not intended as professional nutritional or medical advice. The content in this website should not be used solely during a medical emergency or for the diagnosis or treatment of any medical condition. Please consult your doctor or other qualified health care provider regarding any course of medical treatment.

---