Asparagus Peas Veggie Dish
This attractive, heart healthy asparagus-peas-veggie dish is so, due to the vitamin packed vegetables. These vegetables include the superfoods of broccoli and zucchini - along with the superfood of asparagus and peas.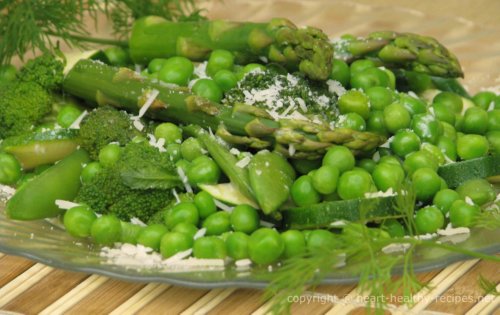 The asparagus is an excellent source of Vitamin K and folate. It is also a good source of vitamin C, vitamin A, potassium, copper, manganese and iron. Folate is essential to heart health because it helps with healthy methylation and reduces levels of the heart-toxic amino acid, homocysteine. Vitamin C is also a heart and blood vessel protector and the fiber in asparagus helps to limit excess cholesterol. The zucchini contains over 10% of the RDA of magnesium, a mineral shown to reduce the risk of heart attack and stroke. Zucchini also provides folate, thus also reducing homocysteine levels, which if high can contribute to heart attack and stroke. The potassium found in zucchini helps lower blood pressure. High blood pressure, if unchecked can lead to arteriosclerosis (blood vessel damage), heart attack and stroke. The dietary fiber in zucchini also helps lower cholesterol.
Recipe Ingredients:
1 broccoli head of florets
2 zucchini, sliced
8 oz. asparagus spears
4 oz. snow peas
1 cup frozen peas
2 tablespoons olive oil
3 tablespoons vegetable stock
4 tablespoons heavy cream
1 teaspoon nutmeg
2 tablespoons parsley
2 tablespoons grated parmesan cheese
salt to taste
pepper to taste
Recipe Instructions:
Steam the broccoli, zucchini, asparagus spears, and snow peas over a pan of boiling water until they are just beginning to soften. Remove from the heat and refresh in cold water. Drain and set aside.
Bring a small pan of water to a boil, add the frozen peas and cook for three minutes. Drain the peas, refresh in cold water, and then drain again. Set aside with the other vegetables.
Put the olive oil and vegetable stock in a pan over medium heat. Add all of the vegetables, reserving a few of the asparagus spears, and toss carefully with a wooden spoon until they have heated through, taking care not to break them up.
Stir in the cream and heat through without bringing to a boil. Season to taste with salt, pepper, and nutmeg, and then stir in the chopped parsley.
This vegetable dish is delicious over warmed pasta. If serving over warmed pasta, spoon over the vegetable sauce and sprinkle over the parmesan cheese. Arrange the reserved asparagus spears in a pattern on top and serve.
Makes 4 servings.
---
Receive 15% Discount & Free Shipping:

Receive a 15% discount on all products including kitchen items such as mixers, blenders, cookware sets, food processors, and more from

HomeHavenDecor.com

.  For the 15% discount, along with free shipping, please enter HEALTHY15 upon checkout.
---
Heart Healthy Weight-Loss
We would like to invite you to join our Heart Healthy Weight-Loss Support Group.  You are welcome to join us for support with weight-loss and heart health issues by visiting:
https://www.facebook.com/groups/hearthealthyweightloss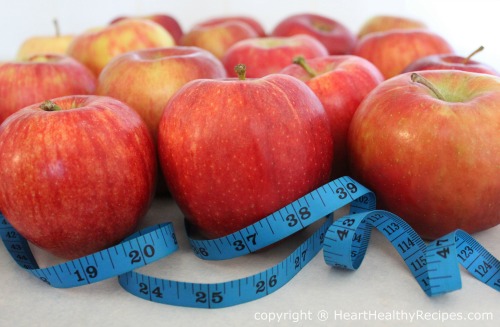 Visit & Join Our Facebook Weight-Loss Group by clicking HERE, or by copying and pasting the following URL:  https://www.facebook.com/groups/hearthealthyweightloss

---

Check out Children's Hunger Fund:

This non-profit organization delivers hope to suffering children and families around the world.
---
Medical Disclaimer: HeartHealthyRecipes.com website offers informational service only and the information contained in this website is not intended as professional medical advice.  The content in this website should not be used solely during a medical emergency or for the diagnosis or treatment of  any medical condition.  Please consult your doctor or other qualified health care provider regarding any course of medical treatment.
---