Black Bean Quinoa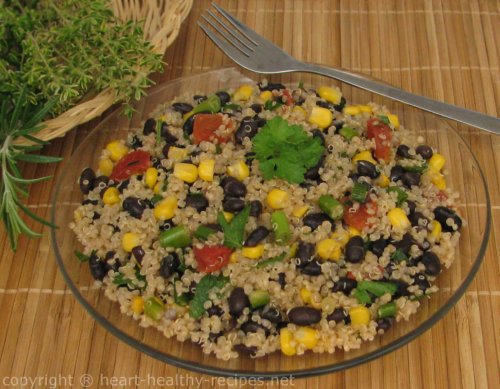 This low fat, heart healthy Black Bean Quinoa recipe is high in vitamins and minerals. Quinoa is also a low cholesterol complex carbohydrate with heart-healthy polyunsaturated fats providing long-lasting energy. This wonderful seed is very high in protein and amino acids - including lysine, which is very crucial for repairing tissues in the body. Another benefit of quinoa is the rich amount of iron, calcium, potassium, copper and potassium - helping prevent heart disease.
Recipe Ingredients:
4 cups cooked quinoa
3 cups black beans
1 cup sweet corn, fresh or frozen
½ cup green onions, chopped
¼ cup curly parsley, chopped
1 tomato, coarsely chopped
¼ cup grape seed oil
3 tablespoons lemon juice
1 teaspoon sea salt
1 teaspoon cumin
dash cayenne pepper
Recipe Instructions:
Cook quinoa and place in large glass bowl to chill in refrigerator. Cook black beans and corn - also chill in refrigerator. Chop green onions and parsley adding to mixture. Then coarsely chop tomato blending into large bowl. In smaller mixing bowl combine grape seed oil, lemon juice, sea salt, cumin and cayenne pepper. Add liquid in smaller bowl to the larger bowl.

Makes 4-6 servings.
Nutritional Information/Analysis:
Calories: 566 Protein: 22g Carbohydrates: 83g Total Fat: 18g Saturated Fat: 2g Fiber: 19g Cholesterol: 0mg Sodium: 602mg
---