Baked Cod
Lemon baked cod fish that is a light and healthy tasting addition to any meal. Also, low in calories and unhealthy fats, this cod fish is high in protein helping to repair and build healthy cells.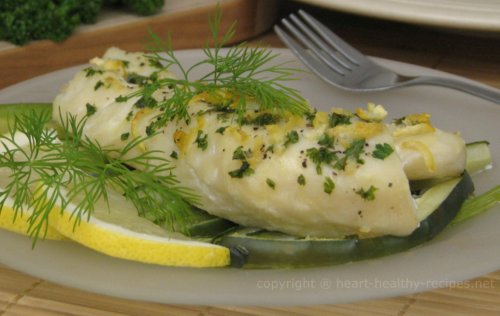 The cucumbers combined with the lemon juices create a delicious taste similar to that of dill cucumbers. The celery gives a tasty, satisfying "crunch". White fish cod is one of the best sources of easily absorbable protein, which is essential for healthy building and repairing of cells in the body. Yet cod has almost zero carbohydrates or fat, while being high in the nutrient content of vitamin B12, along with vitamin B6, which are important in keeping homocysteine levels low.
Homocysteine is a molecule that is associated with the blood vessel walls - when seen in high proportions can increase the risk of heart attack and stroke.
Cod also contains niacin, another B vitamin, which will help lower cholesterol. This white marine fish is an excellent source of selenium, phosphorus and potassium.
Omega-3 & Cod Fish:
Consuming baked cod regularly decreases risk of heart attack and promotes cardiovascular health because it is one of the best sources of blood-thinning omega-3 fatty acids. Omega-3 fatty acids, EPA and DHA will help reduce the risk of arrhythmia and/or sudden death.
Also, omega-3 fatty acids greatly help improve the function of the heart muscle which helps protect against an ischemic stroke. Recent studies have shown that increasing consumption of omega-3 fatty acids significantly improves heart function in as little as two weeks, not just long-term cardiac benefits as once believe.
Only two servings of omega-3-rich fish a week can lower triglycerides. High levels of triglycerides are linked to high total cholesterol, high LDL (bad) cholesterol and low HDL (good) cholesterol, which can increased risk of cardiovascular disease. Research indicates that most improvement occurs when fish containing the omega-3 fatty acid is consumed five times a week or even daily. A healthy goal is to eat at least 10 ounces of omega-3-rich fish each week to improve the electrical properties of heart cells, which will help protect against fatal abnormal heart rhythms.
Cod is not only beneficial in protecting against fatal heart arrhythmia, but also in helping prevent and control high blood pressure. Consuming a daily serving of omega-3-rich fish, like baked cod, provides significantly greater reduction in the risk of coronary heart disease than eating fish even as frequently as a couple of times a week according to the American Heart Association. Eating boiled or baked cod, but not fried, may reduce risk of atrial fibrillation, the most common type of heart arrhythmia. The lemon baked cod recipe below is ideal to incorporate into any heart healthy diet. 

Recipe Ingredients:
2 medium cucumbers (about 8 in./20 cm. long) with peels
2 celery stalks
4 thick cod fillets, about 5 oz./140 g. each
1 tablespoon chopped fresh parsley
grated rind and juice of one lemon
dashes of black pepper
lemon wedges, to garnish (optional)
Dill weed sprigs, to garnish (optional)
Recipe Instructions:
Preheat oven to 400°F/200°C. Cut the celery and cucumber, with peel remaining on cucumber, into long fine sticks and arrange over the bottom of a baking dish. Place the cod fillets on the cucumber and celery making sure the cod fillets are arranged in a single layer for even baking. Sprinkle the parsley, lemon rind, and juice over the fillets. Season with dash of black pepper. Cover the dish with an ovenproof lid or foil and bake in the preheated oven for about 20 minutes, depending on the thickness of the fillets, until the flesh turns white and flakes easily. Serve while warm with the cucumber and celery, spooning over the cooking juices. If desired, garnish with lemon wedges and serve with favorite vegetables.
Makes 4 servings.
---
For MORE recipes and heart health information, please subscribe to heart healthy recipes' FREE newsletter below:

---
Receive 15% Discount & Free Shipping:

Receive a 15% discount on all products including kitchen items such as mixers, blenders, cookware sets, food processors, and more from

HomeHavenDecor.com

.  For the 15% discount, along with free shipping, please enter HEALTHY15 upon checkout.
---
Medical Disclaimer:  HeartHealthyRecipes.com website offers informational service only and the information contained in this website is not intended as professional medical advice.  The content in this website should not be used solely during a medical emergency or for the diagnosis or treatment of  any medical condition.  Please consult your doctor or other qualified health care provider regarding any course of medical treatment.
---