Berry-Blueberry Grape Drink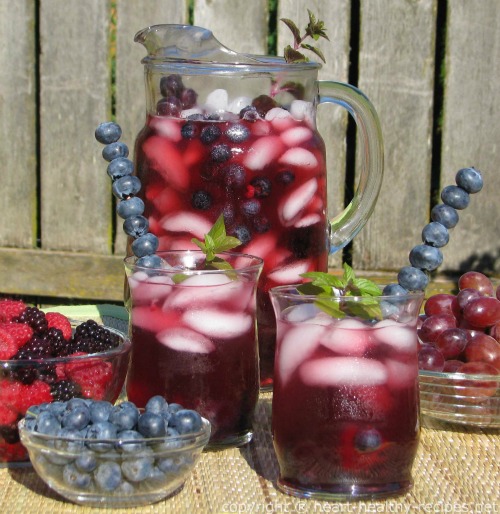 Attractive as it is refreshing...this berry-blueberry grape drink is perfect in any setting from casual entertaining to formal entertaining; such as weddings. Also, the heart health benefits are many including the powerful antioxidants contained in this berry-grape drink. In recent studies, grape juice has been shown to have the same heart-healthy benefits as red wine; including reducing the risk of blood clots and LDL cholesterol. Also, grape juice is helpful in preventing damage to blood vessels in the heart and aids in maintaining a healthy blood pressure. The dark red and purple grapes are particularly high in antioxidants - including resveratrol and flavonoids, like those found in red wine.
Recipe Ingredients:
12 oz. organic frozen, concentrated grape juice
36 oz. or 5 cups cold water
1 cup blueberries, fresh or frozen
1 cup raspberries, fresh or frozen
1 cup blackberries, fresh or frozen
2 - 3 cups ice cubes
mint sprigs, as garnish (optional)
fresh blueberries on skewers (optional)

Recipe Directions:
Thaw frozen, concentrated grape juice in pitcher and mix in cold water. Add fresh or frozen blueberries, raspberries and blackberries. Finally, add ice cubes. Garnish with fresh mint sprigs if desired. For an elegant finishing touch - place fresh blueberries on wooden skewers into individual serving glasses. Makes 6-8 servings.
Double or triple recipe accordingly for large get-togethers, such as wedding and as needed for punch bowls.

---
For more recipes and heart health information, please subscribe to heart healthy recipes' FREE newsletter below:

---