Carrot Quinoa Pilaf
The blend of carrots, poppy seeds, along with other veggies make for a very heart healthy carrot quiona pilaf dish that can be a great side dish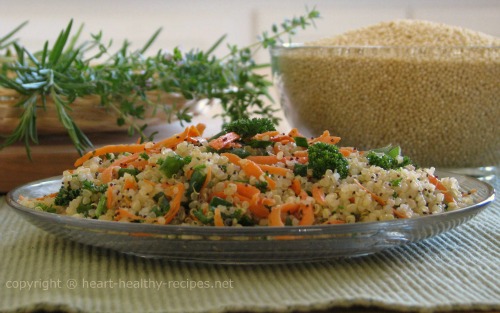 or light snack. The high mineral content of magnesium in quinoa helps relax blood vessels, leading to a decrease of hypertension, ischemic heart disease and heart arrhythmias.

The carrots in this recipe are a very good source of Vitamin A, Vitamin C and Vitamin K. In addition, the poppy seeds also contribute vital minerals such as zinc, calcium, magnesium, which further aid in the smooth functioning of the heart.

Recipe Ingredients:
2 cups dry quinoa
4 cups water
1- 1/2 cup carrots shredded
4-5 green onions, chopped
1/2 cup parsley - coarsely chopped
3 tablespoons poppy seeds
1/4 cup vinegar
1/4 cup olive oil
2 teaspoons sea salt
Recipe Instructions:
Bring to boil dry quinoa, water and sea salt in a medium or large saucepan. Reduce to simmer, cover and cook about 15 minutes or till water is absorbed.

Remove from heat and lightly fluff with a fork, then allow to cool for about 45 minutes to an hour.

While cooked quinoa is cooling, shred carrots and place in a medium bowl.

Next chop green onions and parsley, adding to carrots.

Then combine poppy seeds, vinegar and olive oil, adding to bowl.

Once cooked quinoa is cooled to room temperature add all the ingredients contained in bowl.

Refrigerate or serve immediately.

Makes 6 servings.


Check out Children's Hunger Fund:

This non-profit organization delivers hope to suffering children and families around the world.
For MORE recipes and heart health information, please subscribe to heart healthy recipes' FREE newsletter below:

---
---
Medical/Nutritional Disclaimer: HeartHealthyRecipes.com website offers informational service only and the information contained in this website is not intended as professional nutritional or medical advice. The content in this website should not be used solely during a medical emergency or for the diagnosis or treatment of any medical condition. Please consult your doctor or other qualified health care provider regarding any course of medical treatment.
---