Cheesy Walnut Spelt Dish

This heart healthy yet simple easy, cheesy walnut spelt dish has a sweet crunchy, nutty appeal with the feta cheese adding just the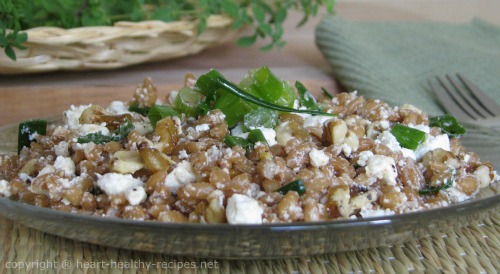 right tangy flavor. Spelt is one of the healthiest foods and being especially heart healthy by containing high amounts of niacin. Niacin has been proven to reduce total cholesterol levels and reduce formation of blood clots. Spelt is so nutritious that boiled spelt has once been utilized to revitalize the sick. The walnuts in this recipe also contribute significantly to heart health by lowering LDL cholesterol. Walnuts reduce the risk of heart disease by improving blood vessel elasticity and plaque build up in the arteries.
Recipe Ingredients:
2 cups spelt berries
6 cups water
1 teaspoon sea salt
1/2 cup walnuts, coarsely chopped
3-4 green onions, chopped
1/2 cup feta cheese
1/4 cup olive oil
1/2 teaspoon cayenne pepper
black pepper (to taste)
Recipe Instructions:
Place spelt berries in a colander and thoroughly rinse under running water. Then place rinsed berries into a pot, adding water. Add sea salt to the pot. Heat pot over medium-high and bring to a boil. After the water reaches a boil, reduce the heat to low and simmer until the grain is tender, usually 50 to 60 minutes.
While spelt is cooking, chop walnuts and green onions - place in serving dish or bowl. Next measure and add feta cheese, olive oil and peppers to bowl. Once spelt is cooked - Set aside and allow to cool. When spelt berries are cooked and cooled, gently fold into the rest of the ingredients and serve. Garnish with extra green onions or chives.
Makes 4 servings.

---
Receive 15% Discount & Free Shipping:

Receive a 15% discount on all products including kitchen items such as mixers, blenders, cookware sets, food processors, and more from

HomeHavenDecor.com

.  For the 15% discount, along with free shipping, please enter HEALTHY15 upon checkout.
---
For MORE recipes and heart health information, please subscribe to heart healthy recipes' FREE newsletter below:

Heart Healthy Weight-Loss
We would like to invite you to join our Heart Healthy Weight-Loss Support Group.  You are welcome to join us for support with weight-loss and heart health issues by visiting:
https://www.facebook.com/groups/hearthealthyweightloss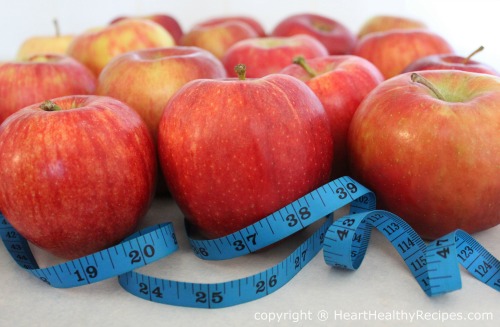 Visit & Join Our Facebook Weight-Loss Group by clicking HERE, or by copying and pasting the following URL:  https://www.facebook.com/groups/hearthealthyweightloss

---

Check out Children's Hunger Fund:

This non-profit organization delivers hope to suffering children and families around the world.
---
---
Medical/Nutritional Disclaimer: HeartHealthyRecipes.com website offers informational service only and the information contained in this website is not intended as professional nutritional or medical advice. The content in this website should not be used solely during a medical emergency or for the diagnosis or treatment of any medical condition. Please consult your doctor or other qualified health care provider regarding any course of medical treatment.

---