Cod Fish Chowder
A heart-warming soup on a cold and chilly day, that is colorful and attractive as well as satisfying. Cod fish chowder soup offers a great supply of heart healthy benefits, including the powerful nutrient of omega-3.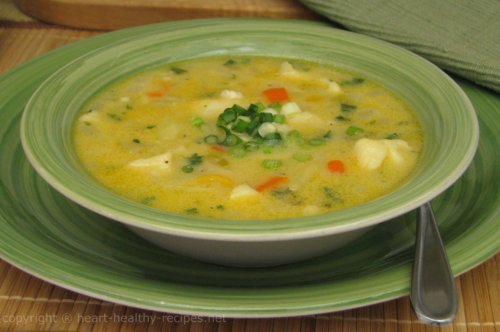 The omega-3 fatty acids found in the cod fish may help the heart by decreasing triglycerides and lowering blood pressure.  Also, omega-3s have been shown to help regulate irregular heart beats. 
Cod Fish Chowder - Recipe Ingredients:
1/4 cup olive oil
1 large onion
2 cloves garlic, chopped
3 green onions
2 medium potatoes, peeled and dice into 1/2" cubes
3 tablespoons flour
1 red bell pepper
1 yellow bell pepper
2 cups vegetable broth
2 cups milk or rice milk
1 lb. cod pieces
2 - 3 tablespoons parsley

Cod Fish Chowder - Recipe Instructions:
In 2 quart saucepan, sauté onions and garlic until soft. Add potatoes and cook over low heat until potatoes begin to soften. Season with salt and pepper. Sprinkle with flour and stir gently over low heat for about 5 minutes. Chop up and add bell peppers. Add liquids and parsley - then cook over low heat until soup begins to thicken. Gently stir in cod and continue cooking until the cod fish is completely cooked. Makes 6-8 servings.
Nutritional Information/Analysis:
Calories: 276 Protein: 20.2g Carbohydrates: 23.8g Total Fat: 11.4g Saturated Fat: 2.4g Trans Fat: 0.0g Dietary Fiber: 3.4g Cholesterol: 40mg Sodium: 339mg
---
For more recipes and heart health information, please subscribe to heart healthy recipes FREE newsletter below:

Receive 15% Discount & Free Shipping:

Receive a 15% discount on all products including kitchen items such as mixers, blenders, cookware sets, food processors, and more from

HomeHavenDecor.com

.  For the 15% discount, along with free shipping, please enter HEALTHY15 upon checkout.
Heart Healthy Weight-Loss
We would like to invite you to join our Heart Healthy Weight-Loss Support Group.  You are welcome to join us for support with weight-loss and heart health issues by visiting:
https://www.facebook.com/groups/hearthealthyweightloss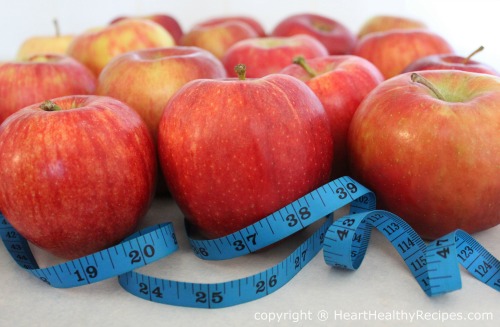 Visit & Join Our Facebook Weight-Loss Group by clicking HERE, or by copying and pasting the following URL:  https://www.facebook.com/groups/hearthealthyweightloss

---

Check out Children's Hunger Fund:

This non-profit organization delivers hope to suffering children and families around the world.
---
---
Medical/Nutritional Disclaimer: HeartHealthyRecipes.com website offers informational service only and the information contained in this website is not intended as professional nutritional or medical advice. The content in this website should not be used solely during a medical emergency or for the diagnosis or treatment of any medical condition. Please consult your doctor or other qualified health care provider regarding any course of medical treatment.

---