Creamy Spinach Dip
Creamy spinach dip seasoned with garlic is also a low-fat, low-salt appetizer perfect for entertaining anytime of the year.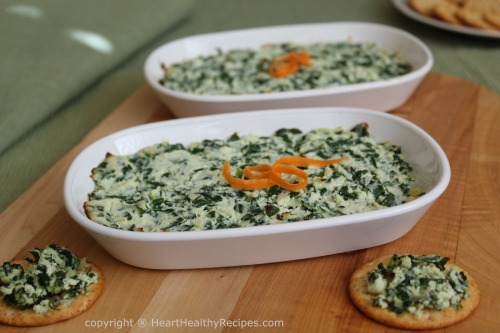 Though, it is especially popular during the holiday season being a heart-healthy alternative to the traditional cheese spreads. 
The low-fat ricotta cheese provides a creamy, satisfying texture, while the garlic and spinach are loaded with nutrients that benefit the heart.
The powerful compounds in garlic have been known to help combat illnesses such as the common cold and many chronic health conditions.  This includes the heart.  Garlic has shown to help improve cholesterol levels as well (1); along with lowering blood pressure (2).
The nutrient loaded spinach containing magnesium and potassium helps lower blood pressure.  Also, the protein in the spinach leaves possesses anti-hypertension properties that may help to control blood pressure levels (3).  Spinach, as with the garlic, may also help lower cholesterol levels.

The recipe (shown below) is quick, easy and consists of a few simple, healthy ingredients.  The creamy consistency of the low-fat ricotta cheese also makes it easy to spread on crackers, garlic bread and/or other healthy home-made breads.
Creamy Spinach Dip - Recipe Ingredients:

2 tablespoons grape seed oil
2 garlic cloves, minced
3-3½ cups fresh spinach (approx. 2½ oz.), chopped 
1 cup ricotta cheese
sea salt, to taste (optional)
black pepper, to taste
carrot strips, curled - for garnish, if desired

Creamy Spinach Dip - Recipe Instructions:

In a large skillet, add 1 tablespoon of the oil (half) and all the garlic. Sautéing on medium heat for approximately 3 minutes or until very light brown.  Next, add the freshly chopped spinach.  Drizzle with remaining oil and sauté on low heat for an additional 12-15 minutes. 
In a medium mixing bowl, combine the ricotta and spinach mixture.  Season to taste with sea salt (optional) and black pepper.  Then place in shallow baking dish or dishes and bake at 425°F until the top is light golden brown, approximately 12 minutes. 
Garnish with curled carrot strips if desired.  

Makes 24-26 (1 tablespoon sized) toppings.
Recipe Tip:
This quick and easy recipe can be made in advance of a party or event, since it stores well.  It can be made up to three days  ahead of time and stored in the refrigerator.
For more heart-healthy appetizers, click here.
---
Receive 15% Discount & Free Shipping:

Receive a 15% discount on all products including kitchen items such as mixers, blenders, cookware sets, food processors, and more from

HomeHavenDecor.com

.  For the 15% discount, along with free shipping, please enter HEALTHY15 upon checkout.
---
For MORE recipes and heart health information, please subscribe to heart healthy recipes' FREE newsletter below:

---
Medical Disclaimer:  HeartHealthyRecipes.com website offers informational service only and the information contained in this website is not intended as professional medical advice.  The content in this website should not be used solely during a medical emergency or for the diagnosis or treatment of  any medical condition.  Please consult your doctor or other qualified health care provider regarding any course of medical treatment.

---
Heart Healthy Weight-Loss
We would like to invite you to join our Heart Healthy Weight-Loss Support Group.  You are welcome to join us for support with weight-loss and heart health issues by visiting:
https://www.facebook.com/groups/hearthealthyweightloss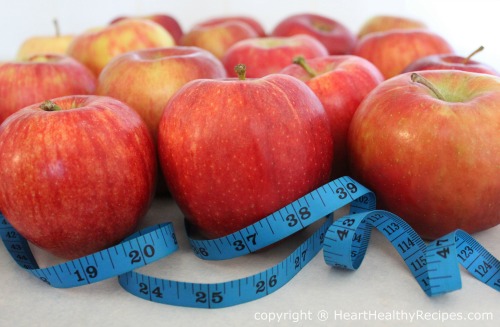 Visit & Join Our Facebook Weight-Loss Group by clicking HERE, or by copying and pasting the following URL:  https://www.facebook.com/groups/hearthealthyweightloss

---

Check out Children's Hunger Fund:

This non-profit organization delivers hope to suffering children and families around the world.
---