Dill Cod Appetizer
This attractive "yummy" heart-healthy dill cod appetizer has a crunchy, meaty taste and is a sophisticated complement to any party vegetable tray. The main ingredient being cod fish makes this a heart-healthy recipe. Cod is a fish that is packed with nutritious vitamins, including vitamin D, along with a generous amount of protein and the heart-healthy essential omega-3 fatty acids. 

The heart-healthy oils found in the dill cod appetizer help support the heart by lowering blood pressure and stabilizing the heart. Studies have shown essential omega-3s help reduce clot formation, help prevent arrhythmias and reduce heart disease.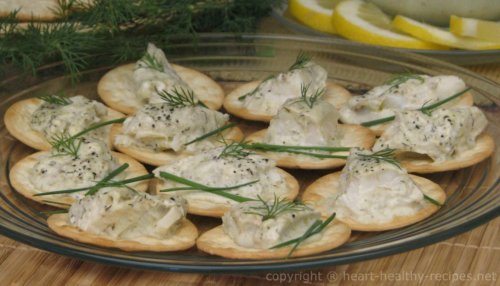 Recipe Ingredients:
2-3 fresh or thawed cod fillets

½ cup Vegenaise or 

Best Foods Vegan Spread

 (egg free Mayonnaise substitutes)

1 tablespoon grapeseed oil

¼ teaspoon garlic powder

1 tablespoon lemon juice

¼ teaspoon sea salt

1 tablespoon finely chopped spinach

1 tablespoon finely chopped, fresh parsley

¼ teaspoon dill weed

black pepper, for sprinkling on top (optional)

chives and dill sprigs, as garnish (optional)

18-24 round crackers
Recipe Instructions:
Preheat oven to 350ºF.  Mix mayonnaise substitute - Vegenaise® or Best Foods Vegan Spread, grape seed oil, garlic, lemon juice and sea salt in a mixing bowl. Chop the spinach and parsley finely and add to mixture. Then add dill weed.
Rinse cod fillets in cool running water. Then arrange in a cooking dish and drizzle ¾ of the above mixture over the cod fillets - reserving the remaining ¼ mixture to chill overnight in refrigerator. Cover and place in preheated oven for approximately 25 minutes, until fish flakes easily with fork. Remove from oven and chill in refrigerator overnight.
Next day arrange 18-24 crackers or bread squares on a several serving plates. Add a very small dollop of the chilled sauce mixture to each cracker (this is to help the cod fillets stick to cracker). Then remove the cod fillets from the refrigerator and gently cut into ½ – ¾" squares. Arrange on each cracker and drizzle lightly with any remaining sauce. Sprinkle with black pepper. Garnish with dill sprays and chives if desired. 
Makes 18-24 dill cod appetizer pieces (depending on the size of the cod fillets squares).
---
For MORE recipes and heart health information, please subscribe to heart healthy recipes' FREE newsletter below:

---
Receive 15% Discount & Free Shipping:

Receive a 15% discount on all products including kitchen items such as mixers, blenders, cookware sets, food processors, and more from

HomeHavenDecor.com

.  For the 15% discount, along with free shipping, please enter HEALTHY15 upon checkout.
---
Heart Healthy Weight-Loss
We would like to invite you to join our Heart Healthy Weight-Loss Support Group.  You are welcome to join us for support with weight-loss and heart health issues by visiting:
https://www.facebook.com/groups/hearthealthyweightloss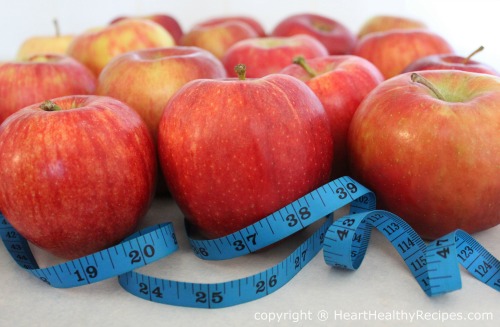 Visit & Join Our Facebook Weight-Loss Group by clicking HERE, or by copying and pasting the following URL:  https://www.facebook.com/groups/hearthealthyweightloss

---

Check out Children's Hunger Fund:

This non-profit organization delivers hope to suffering children and families around the world.
---
Medical/Nutritional Disclaimer: HeartHealthyRecipes.com website offers informational service only and the information contained in this website is not intended as professional nutritional or medical advice. The content in this website should not be used solely during a medical emergency or for the diagnosis or treatment of any medical condition. Please consult your doctor or other qualified health care provider regarding any course of medical treatment.

---