Salmon Cakes
Delicious, mini salmon cakes that contain the heart-healthy ingredient of omega-3 fatty acids.  The high amount of essential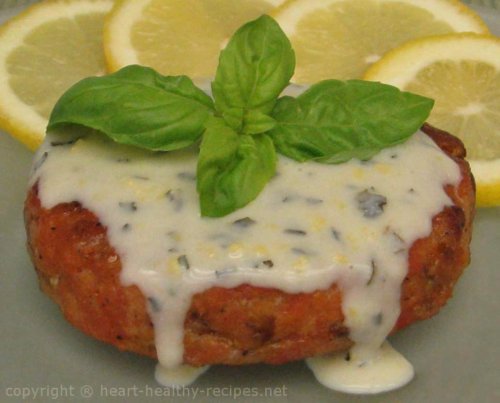 omega-3 fatty acids in salmon makes salmon one of the top heart-healthy foods.  These essential heart-healthy fatty acids help reduce the fat in blood which are triglycerides and help slow the buildup of plaque in arteries (1).  Omega-3 fatty acids also assist in the prevention of irregular heart beats or arrhythmias (2) and help lower blood pressure.  Since the body cannot make omega-3 fatty acids on its own, it is essential to get them from the diet or supplements.  
In addition to stabilizing the heart rate, omega-3s may also help alleviate anxiety (3) and depression (4,5), along with aiding mental acuity and lessening attention deficient disorder (6).  The American Psychiatric Association recommends the use of omega-3 fatty acid supplementation for depression (7).
The potassium-rich avocado, containing more potassium than bananas, may also help lower blood pressure.  Avocados are also high in the heart-healthy fat of omega-3 fatty acids.  As mentioned above, omega-3s have many heart-health benefits including the benefit of lowered inflammation in the body.  Chronic inflammation has been associated with many diseases including heart disease.  It is also believed that the reduction of inflammation the omega-3 fatty acids provide may benefit asthma suffers as well.
---
---
Salmon Cakes – Recipe Ingredients:
15 oz. salmon, fresh wild-caught or canned wild-caught Alaskan salmon
1 yellow or red bell pepper, finely chopped
½ cup onion, minced finely
1-2 cloves of garlic
2-3 tablespoons ground flax seed
sea salt, to taste (optional)
black pepper, to taste

½ ripe, fresh avocado, seeded, peeled and mashed
¼ cup of grape seed oil or extra-virgin olive oil
Salmon Cakes – Recipe Instructions:
Preheat oven to 350°F. Mix the salmon, bell pepper, onion, garlic, flax seed meal, sea salt and pepper in a bowl.  Next, mash avocado in mixture to help hold patties together.  Use a measuring cup or large spoon, scoop out about ¼ cup of salmon cake mixture.  Place mixture on a cookie sheet lined with parchment paper, pushing down to form the cake patties.  Drizzle the grape seed oil on top of the salmon cakes and bake for 20 minutes, then turn the broiler on for about 5 minutes to brown the top sides.  Serve with lemon-herb dressing (below) and lemon slices.  Garnish with basil if desired.
Lemon-Herb Dressing – Recipe Ingredients:
2 tablespoons fresh parsley, chopped
1 tablespoon of chives, chopped
1 teaspoons grated lemon zest
¼ cup extra-virgin olive oil
1 tablespoon fresh lemon juice
¾ cup non-fat plain yogurt
Lemon-Herb Dressing – Recipe Instructions:
In a food processor pulse the parsley, chives, and lemon zest until finely chopped.  With the motor running, pour the olive oil and lemon juice through the feed tube and pulse some more.  Next, add the yogurt and process for another minute or so.  Transfer to a small bowl and refrigerate for at least 1 hour to let the flavors blend.  Season to taste with sea salt, pepper, or more lemon juice if desired.
---
Cuisinart Elemental Food Processor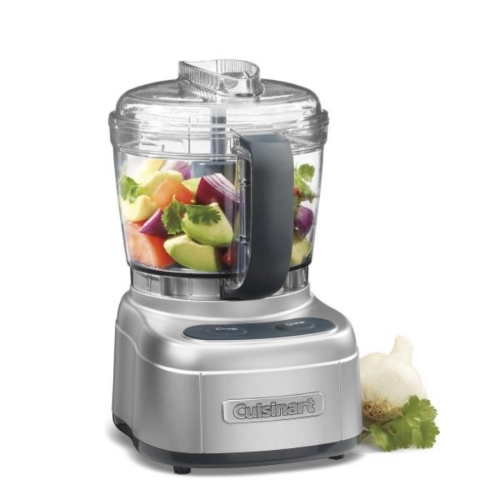 Cuisinart's 4-cup food processor chops, grinds, and purées your favorite foods effortlessly to help prepare heart-healthy meals, including the salmon cake recipe. For more information on food processor, please visit Home Haven Décor's Kitchen Store.

---
Receive 15% Discount & Free Shipping:

Receive a 15% discount on all products including kitchen items such as mixers, blenders, cookware sets, food processors, and more from

HomeHavenDecor.com

.  For the 15% discount, along with free shipping, please enter HEALTHY15 upon checkout.
---
Medical/Nutritional Disclaimer: HeartHealthyRecipes.com website offers informational service only and the information contained in this website is not intended as professional nutritional or medical advice. The content in this website should not be used solely during a medical emergency or for the diagnosis or treatment of any medical condition. Please consult your doctor or other qualified health care provider regarding any course of medical treatment.

---