Salmon Cakes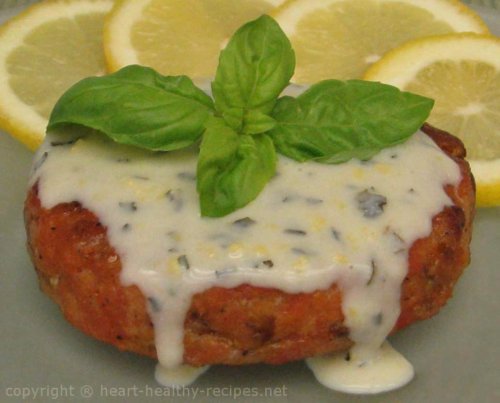 Delicious, mini salmon cakes contain the heart healthy ingredient of omega-3 fatty acids. The high amount of omega-3 fatty acids in salmon makes it one of the top heart healthy foods.  These fatty acids actually help reduce the fat in blood with the benefiting content of triglycerides and help slow the buildup of plaque in arteries.  Omega-3 fatty acids also assist in the prevention of irregular heart beats or arrhythmias and help lower blood pressure.  
Salmon Cakes – Recipe Ingredients:
15 oz. salmon, fresh wild-caught or canned wild-caught Alaskan salmon
1 yellow or red bell pepper, finely chopped
½ cup onion, minced finely
1-2 cloves of garlic
2-3 tablespoons ground flax seed
salt and pepper to taste
½ ripe, fresh avocado, seeded, peeled and mashed
¼ cup of unsweetened coconut milk
Salmon Cakes – Recipe Instructions:
Preheat oven to 350°F. Mix the salmon, bell pepper, onion, garlic, flax seed meal, salt and pepper in a bowl. Next, mash avocado in mixture to help hold patties together. Use a measuring cup or large spoon, scoop out about ¼ cup of salmon cake mixture. Place mixture on a cookie sheet lined with parchment paper, pushing down to form the cake patties. Drizzle the coconut oil on top of the salmon cakes and bake for 20 minutes, then turn the broiler on for about 5 minutes to brown the top sides. Serve with lemon slices and garnish with basil if desired.
---
Lemon-Herb Dressing – Recipe Ingredients:
2 tablespoons fresh parsley, chopped
1 tablespoon of chives, chopped
1 teaspoons grated lemon zest
¼ cup extra-virgin olive oil
1 tablespoon fresh lemon juice
¾ cup non-fat plain yogurt
Lemon-Herb Dressing – Recipe Instructions:
In a food processor pulse the parsley, chives, and lemon zest until finely chopped. With the motor running, pour the olive oil and lemon juice through the feed tube and pulse some more. Next, add the yogurt and process for another minute or so. Transfer to a small bowl and refrigerate for at least 1 hour to let the flavors blend. Season to taste with salt, pepper, or more lemon juice if desired.
---